2023

SACRED PEACE WALK, NEVADA
April 1 – 7
The
Nevada Desert Experience
invites you to join them in an event of hope and resistance in the desert. Over Holy Week, April 1-7, as for most of the past 40 years, NDE will host The Sacred Peace Walk, an interfaith journey of approximately 60 miles from Las Vegas to the Nevada National Security Site (NNSS, formerly the Nevada Test Site) through the Great Basin Desert in Nevada, on the beautiful traditional lands of the indigenous Western Shoshone and Paiute peoples. They will bring their message of nonviolence to the nuclear test site and to Creech Air Force Base along the way.
The walk will end at the NNSS with a "Nuclear Stations of the Cross" procession from historic Peace Camp to the gates. With permission of the Western Shoshone National Council, some will enter the test site, risking arrest. After more than 30 years of not prosecuting activists arrested at the NNSS, local authorities have recently begun charging some repeat "offenders."
xxx
Spring Action Week to SHUT DOWN DRONE WARFARE!
Holloman Air Force Base, Southern New Mexico
"FROM TAX DAY to EARTH DAY,
RISE UP!
"
Join 300+

ANGELIC TROUBLEMAKERS

*

in the beautiful Chihuahuan Desert, homeland of the Mescalero Apache Nation in southern New Mexico. We call on peacemakers across the U.S. to converge at Holloman AFB for a

week of peaceful resistance

against drone warfare and an out of control, self-destructing U.S. empire!
(Registering EARLY helps us tremendously, even if your plans later change. Come for all or part of the week)
Why now? For 14 years our drone resistance efforts across the country have been ignored by our government. After decades of peace work to stop endless wars and disarm nuclear weapons, U.S. and NATO actions increasingly exacerbate the risk of nuclear annihilation. The illegal U.S. drone program is expanding, and our resistance is expanding! The time for MASS NONVIOLENT PEACEFUL RESISTANCE IS NOW!
We the people must RISE UP!
Ground the Drones!
Join us for a week of beautiful, joyous and peaceful troublemaking. We are called to action!
Activists from CODEPINK and Veterans For Peace are collaborating behind the scenes and plans are in the works for an exciting week.
Check it out.
Most folks will be staying at "Camp Justice," our peace encampment at Oliver Lee Memorial State Park,12 miles south of Alamogordo. Except for our daily am/pm vigils at Holloman AFB, most other activities and meals will be offered at "Camp Justice." Group rates at Alamogordo motels will be available for those who cannot camp. More details soon. Info about t
raveling assistance and stipends HERE.
Help us reach our goal of 300+ participants!
Please DONATE HERE, to support our travel stipend fundraising and many other expenses.
We hope to see you at Shut Down Drone Warfare!
Virginia, Ken , Denise, Charles, Toby and Gary
xxx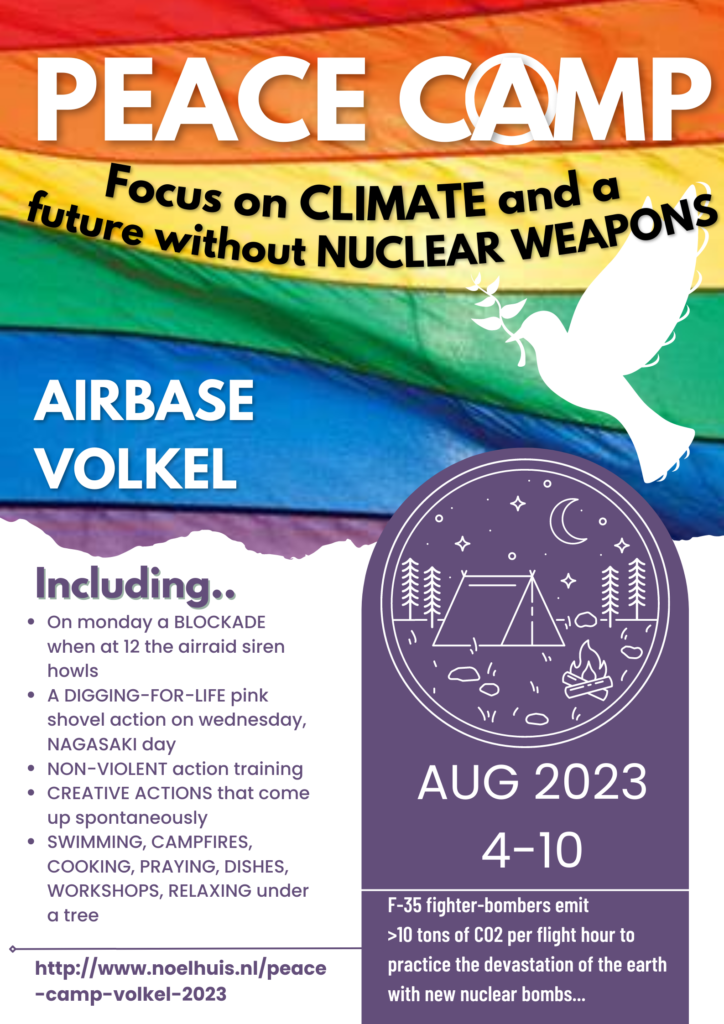 MERCHANTS OF DEATH WAR CRIMES TRIBUNAL
November 10-13, 2023
The Merchants of Death War Crimes Tribunal will hold accountable — through testimony of witnesses — U.S. weapons manufacturers who knowinglyproduce and sell products which attack and kill not only combatants but non-combatants as well. These manufacturers may have committed Crimes Against Humanity as well as violated U.S. Federal criminal laws. The Tribunal will hear the evidence and render a verdict.
More information at https://merchantsofdeath.org/