2023
CLIMATE CAMP AGAINST NUKES
in Morschenich near Cologne, Germany
The program will include music, workshops, celebration, theater, direct action training. There will be a place to pitch your tent, vegetarian/vegan food, toilets showers, childcare. The camp relies on the participants' contribution.
The International Campaign to Abolish Nuclear Weapons (ICAN) Germany, International Physicians for the Prevention of Nuclear War (IPPNW) Germany and ICAN partners with a climate background such as Greenpeace and BUND will set up the protest camp against the spooky concept of nuclear sharing from July 4th till July 9th in Nörvenich. The camp has been moved from Buechel airbase to Nörvenich (near Cologne), the new airfield of the Tornado jets that are used for nuclear sharing. The area of Nörvenich borders one of Germany's largest lignite mining pits and is a symbol for the successes of the climate justice movement. This year's focus of the camp will include climate justice, nuclear injustice and feministic views on nuclear weapons.Some more information on the camp:
Webpage:
https://nuclearban.de/climate-camp-against-nukes/
(detailed program is coming soon)
Contact:
antinukleareplanungsgruppe@posteo.de
or
joda@icanw.de
xxx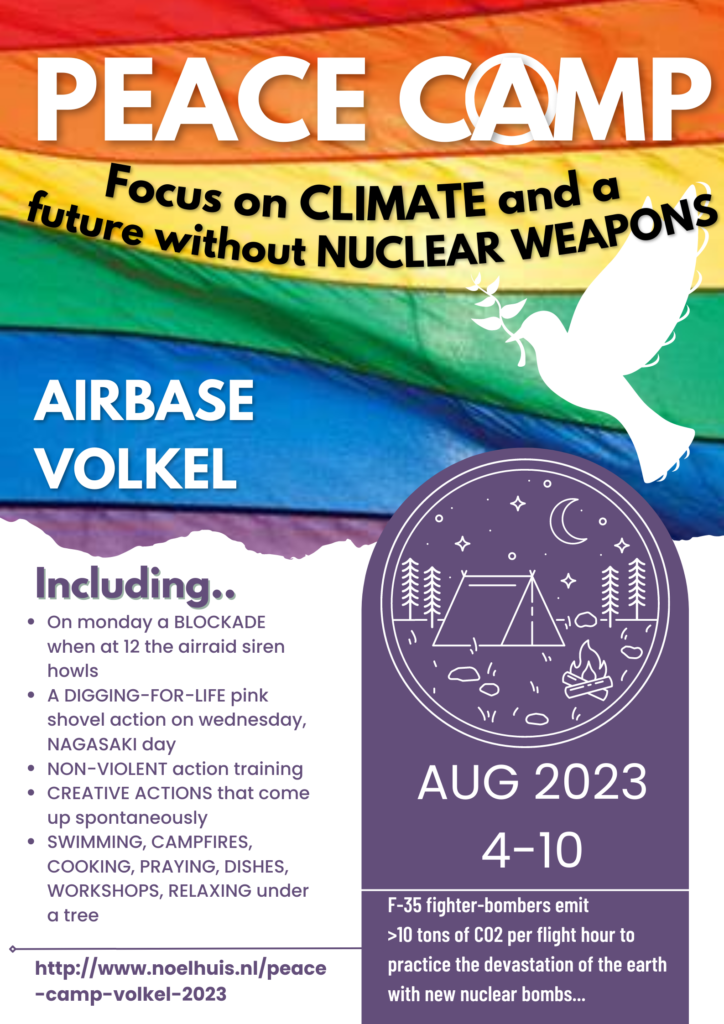 xxx
MERCHANTS OF DEATH WAR CRIMES TRIBUNAL
November 10-13, 2023
The Merchants of Death War Crimes Tribunal will hold accountable — through testimony of witnesses — U.S. weapons manufacturers who knowinglyproduce and sell products which attack and kill not only combatants but non-combatants as well. These manufacturers may have committed Crimes Against Humanity as well as violated U.S. Federal criminal laws. The Tribunal will hear the evidence and render a verdict.
More information at https://merchantsofdeath.org/