By Patrick O'Neill
Sounding very much like they were in the pulpits of their parish churches, diocesan priests Frank Cordaro and Larry Morlan delivered impassioned statements to a packed U.S. District Courtroom in Maryland during their January 4 sentencing for hammering on a B-52 bomber last May.
Despite the moving pleas of the two priests and those of their co-defendants, two Dominican sisters and a Catholic grandmother, Federal Judge Alexander Williams Jr. sentenced the five activists to prison for periods ranging from four to ten months with credit for time served.
The Gods of Metal Plowshares group had been convicted on September 23, 1998 of misdemeanor willful injury to government property stemming from their disarmament action against a B-52 bomber during an open house at
Andrews Air Force Base outside of Washington, D.C. The five remained in federal custody since the trial. The maximum sentence for the offense is one year incarceration.
Prior to sentencing the activists, Judge Williams threatened to jail anyone who disrupted the proceedings. "We're going to maintain the dignity of this court," he said. Despite Williams' warnings, spectators did stand in honor as the five activists were ushered into the courtroom. Citing the biblical text from the fifth chapter of Acts when the apostles were brought before the Sanhedrin for "violating a court injunction about not teaching in the name of Jesus," Fr. Cordaro urged Judge Williams to free the five defendants who, by their actions, obeyed God rather than men.
"We're people of God," Cordaro told the judge. "You can cut us free. I think that would be the fair thing to do."
Both Williams and the U.S. Attorney Patrick DeConcini appeared willing to sentence the five activists to probation and/or house arrest, but the defendants said they would not promise to abide by any post-release conditions such as paying fines or restitution.
Defense advisory attorney David Walsh-Little appealed to Williams to downwardly depart from the suggested sentencing guidelines because the defendants were nonviolent and accepted responsibility for their actions. The five acted on the belief that they wanted "to avoid a greater harm," the use of B-52 bombers against people, Walsh-Little said.
Williams refused to depart from the guidelines, but he did give each defendant the lowest sentence under the guidelines.
"It's clear to me that you're sincere in your beliefs," Williams said, adding that the "resisters" - as he called them - were prepared to face the consequences of their actions.
Kathy Shields Boylan, a grandmother and mother of five sons, received the stiffest sentence, 10 months in prison. A veteran of five plowshares actions, Boylan received the longest sentence because she had the highest number of prior convictions. Boylan has lived and worked at Catholic Worker houses in New York, Connecticut and Washington, D.C.
Dominican sisters Ardeth Platte and Carol Gilbert, both of Baltimore, and Frank Cordaro, a priest in the Diocese of Davenport, Iowa, were sentenced to six months each.
Larry Morlan, a priest in the Diocese of Peoria, Illinois, received the lightest sentence of four months. He was released later that month.
Before his sentencing statement, Morlan got a chuckle when he told the judge, "Frank and I didn't get a chance to give Christmas homilies, so these are our Christmas homilies."
Noting that the B-52 is a "weapon of mass destruction" that is illegal under international law, Morlan said the five sought to "unmask that weapon of hell. We did not attack a TWA passenger plane."
Sister Gilbert said her heart was heavy because in recent weeks the United States had used B-52s to bomb Iraq.
"By our actions we intended to disarm these gods of metal," Gilbert said. "They are illegal, and they must be disarmed."
Boylan equated the B-52 to a Nazi gas chamber and to the chains placed on slaves.
"Would I have used a hammer to break the chains holding slaves?"Boylan said. "Would I have hammered on the railroad tracks [leading to the concentration camps] or the gas ovens to save the victims? I hope so. We are trying with all our hearts to tell the truth."
Sister Platte said her God "is the God of love and the God of mercy, That's the kind of God I've come to know."
"War," Platte said, "is just a destruction of the whole will of God." She said God calls people to love their enemies and to not kill.
"Militarism is the taproot of all violence," she said.
The prosecutor, DeConcini, a Catholic and the son of former Arizona senator Dennis DeConcini, said he couldn't comment on the case, but when asked if it was difficult for him to be prosecuting two nuns, two priests and a grandmother, DeConcini replied: "I think that's fair to say."
For more information, contact the Gods of Metal Plowshares, c/o Liz Walters, IHM, 1664 Church St., Detroit, MI 48216, (313)961-4263.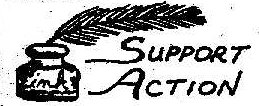 Letters of support may be sent to Kathy Boylan, #20047-016, FPC Alderson, Box A, C-12, Alderson WV 24910.
---