Plowshares Updates
Jubilee
Michele Naar-Obed was finally transferred to the federal prison in Alderson, West Virginia on November 17, where she is expected to complete the remainder of her one-year probation violation sentence by July, 2000. Naar-Obed was sentenced after returning to live with other faithfully disarming felons at Jonah House, her home at the time of the August 6, 1995 Jubilee Plowshares action at Norfolk Naval Shipyards.
Pax Christi/Spirit of Life
On November 29, Bruce Friedrich was called before the same Norfolk, Virginia judge who sent Naar-Obed back to jail last summer, facing his own hearing for an alleged probation violation. Friedrich is nearing the end of his own probation for the 1993 Pax ChristiÝSpirit of Life Plowshares action, and had been given permission to go to Los Angeles for a family visit. In his present job with People for the Ethical Treatment of Animals, Friedrich had already run afoul of probation restrictions on travel, and on this occasion his visit with family coincided with a PeTA gala fundraiser hosted by musician Paul McCartney. Friedrich attended the event, and as a result attended court as well. Federal Judge Rebecca Beach Smith chose to allow Friedrich to complete his probation with no further prison time or probation. He will not be permitted to travel out of eastern Virginia until January 14, 2000 when his probation ends for good. Friedrich said Smith's sentence was "way beyond my expectations."
Minuteman III
Sachio Ko-Yin (Oliver Sachio Coe) and Daniel Sicken are as settled as can be into the prison routine. In an open letter to his Friends Meeting (Quaker) and other supporters printed in their support newsletter, The Broken Rifle, Sachio writes, "Throughout my tour of the prison system, the fun crafts I learned while working at the [Friends] nursery school have been invaluable, both for fun and building community (the greatest danger to authority). I've tried to pull together birthday parties and other such events, with colorful games, just as at nursery school, but with bigger kids - my fellow prisoners LOVE such things. Kind-hearted, noncompetitive creativity is so needed in our lives..." (See Daniel Sicken's Writing from Jail: The Inside Line)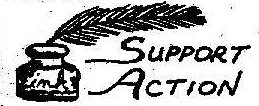 Letters of support can be sent to Michele Naar-Obed, #15007-056, Bldg. A Range 3, P.O. Box A, FPC Alderson, Alderson WV 24910;
to Oliver Sachio Coe, #28361-013, Unit AD, FPC Allenwood, P.O. Box 1000, Montgomery, PA 17752-9718,
and to Daniel Sicken, #28360-013, FPC Lewisburg, P.O. Box 2000, Lewisburg, PA 17837.
The Broken Rifle is available for a contribution from the Sachio Ko-Yin/Daniel Sicken Support Committee, c/o M. Jameson, 10 E. Ridgewood Ave., Ridgewood, NJ 07450, mjameson@lenoxhill.org
---