Before dawn on December 19, the fourth Sunday of Advent, four people discretely entered the Warfield Air National Guard Base in Essex, Maryland. Calling themselves the Plowshares vs. Depleted Uranium, Philip Berrigan, Susan Crane, Rev. Steve Kelly S.J., and Elizabeth Walz quickly went to work disarming two A-10 anti-tank aircraft - the infamous "Warthog." Berrigan and Walz worked together to disarm one plane, hammering on the Gatling gun in the nose of the plane that fires radioactive depleted uranium bullets. They also struck pylons under the wings, and poured their blood into the engine of the plane. Meanwhile, Kelly and Crane did similar transformation to a second plane and, in addition, Kelly climbed onto a wing, peeled back the vinyl cover and poured his blood into one of the engines. They hung their banner: PLOWSHARES VS. DEPLETED URANIUM on the site.
Federal Air Police were soon on the scene and ordered the four to stop. Quickly impatient with the dedicated laborers, police pepper-sprayed Kelly and tackled Crane to the ground to stop their peacesmithing. The four were arrested and held overnight before a bail hearing on Monday.
All face charges of trespass, malicious destruction of property, and two counts of burglary. Blaming the victim, Crane is also charged with assault. Bail was set for $50,000-$75,000, which all refused to post. They remain in jail, awaiting a plea hearing and trial date.
Berrigan and Crane reside at Jonah House, a Christian resistance community in Baltimore. Walz is a member of the Philadelphia Catholic Worker community. Kelly, "underground" since his parole last summer, will likely face a probation violation hearing for refusing to pay a fine for the Prince of Peace Plowshares action he took with Berrigan, Crane, and others in 1997.
For more information, contact Jonah House, 1301 Moreland Ave., Baltimore, MD 21216; disarmnow@erols.com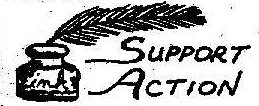 Letters of support can be sent individually to the four at the addresses found in Inside & Out. No books or subscriptions may be sent, but copies of articles will be permitted.
---