Santa Cruz Resister Jailed
A Santa Cruz, California anti-war activist was sentenced in November to nine months in jail following his conviction for felony battery and resisting arrest. Steve Argue began serving his sentence November 23 in the local jail, where he was immediately placed in isolation for "potentially organizing against authority."
Argue was one of a handful of activists arrested when police sparked a melee during an anti-war demonstration last May 22 when they arrested an innocent bystander to a smaller fracas between demonstrators and supporters of U.S. Rep. Sam Farr, pro-war target of the protest. Demonstrators blocked the police van holding the arrested bystander, Kuo-ling Luo. When officers forcibly clearing a path for the van painfully wrenched a woman away from the young child she held, Argue intervened and punched the officer.
In October, the original charge against Kuo-ling Luo - disturbing the peace - was dismissed. Among the others arrested during the fray ensuing from her arrest, Vincent Lombardo was sentenced to 18 months probation for resisting arrest; Jim Cosner left town before his trial for resisting arrest and is now under a warrant; and Nassim Zerriffi will face trial February 28 for resisting arrest and misdemeanor assault on an officer.
Argue, stating "I'm not your chump, I'm not your slave," later refused transfer to a minimum security farm unit where his labor was expected, resulting in 30 days added to his sentence.
Contributions to the "Steve Argue Defense Fund" for legal fees and jail commissary will be appreciated, and may be sent c/o Tracie DeAngelis, 234 High St. #3, Santa Cruz, CA 95060; pnut119@hotmail.com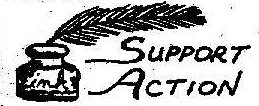 Letter of support can be sent to Steve Argue, Santa Cruz County Jail, Unit K, 259 Water St., Santa Cruz, CA 95060.
---