KLEINE BROGEL
On April 24, as the review conference for the Nuclear Non-Proliferation Treaty (NPT) got underway in New York, 300 peace campaigners arrived at the gates of Kleine Brogel Air Force Base in Belgium. During their colorful protest, 100 "citizens inspectors" were arrested as they entered the alerted NATO base for evidence of the illegal deployment of ten U.S. B-61 nuclear weapons.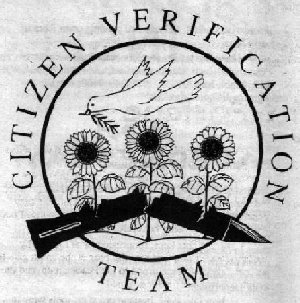 The presence of these American nuclear bombs is probably the best kept public secret in Belgium, as NATO continues to oppose any disclosure of information to members of parliament, press, or the public.
For several years, the organizers of the protest, For Mother Earth and the War Resisters International, have demanded the immediate withdrawal of the estimated 150 U.S. nuclear weapons in Belgium, Britain, Germany, Greece, Italy, the Netherlands and Turkey as an important step towards complete nuclear disarmament. The sharing of the U.S. nuclear weapons with other NATO allies is in breach with Article I and II of the NPT, while the political nuclear deterrent is also violating Article VI, which committed all parties to the NPT to work towards a treaty banning all nuclear weapons. They also oppose U.S. plans to breach the ABM (Anti-Ballistic Missile) treaty as a new threat encouraging a new nuclear arms race.
Protesters were joined once again by Belgian members of parliament and famous authors, while actors took the lead of the theatrical demonstration. Despite hundreds of such arrests each year, no one is prosecuted and the issue of NATO's nuclear weapons as a crime against humanity stays out of the courts.
Photographers are particularly invited to join the next inspection of Kleine Brogel, scheduled for October 1, and document evidence of the crime.
For more information, contact For Mother Earth International, Maria Hendrikaplein 5-6, 9000 Gent, Belgium; +32-9-242-87-52; international@motherearth.org
---