MENWITH HILL
On May 21, Anne Lee and Helen John were sentenced to two and three months in jail, respectively, after being found guilty of cutting into the fence at Menwith Hill, the U.S. space warfare and spying base in North Yorkshire last summer. The women were convicted in Harrogate Magistrate's Court May 2, as was, in absentia, co-cutter Angie Zelter. Half the sentence being the normal time served, Lee was released June 20. John was also told to leave and wait at home for a monitor to be fitted for the remainder of her sentence. She'd just stepped out the door when York police picked her up and sent her to Scotland on an outstanding warrant related to peace graffiti at the Scottish High Court and Parliament in 1999. Trials on those charges are set for July 26 and 28.
Angie Zelter turned herself in to police near her home on May 29, and was taken to Harrogate Magistrate's Court the next day. She was found guilty of failing to appear, but then released because the court claimed it had too little evidence to sentence her at that time. Sentencing was set for June 13, but Zelter did not return on that day.
Shortly after the three women were convicted, Helen John had announced her independent candidacy for Parliament in her local district of Sedgefield, Prime Minister Tony Blair's constituency. John ran as a peace campaigner, pointedly opposing any British support for the American missile defense programs. She continued her campaign from prison but was refused temporary leave to attend the vote count June 7, which Blair won.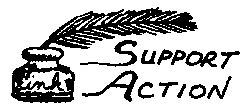 Letters of support should be sent to Helen John, HMP Cornton Vale, Cornton Road, Stirling FK9 5NY, Scotland, UK.
---