A federal judge in Columbus, Georgia, has sentenced 29 more people to three and six months in prison for their nonviolent demonstrations at Fort Benning. It is the largest group yet to be imprisoned in the continuing campaign to close the School of the Americas (SOA), a training academy at Ft. Benning for Latin American militaries. Graduates of the school, recently renamed the Western Hemisphere Institute for Security Cooperation (WHISC), are common among the most notorious human rights abusers on two continents.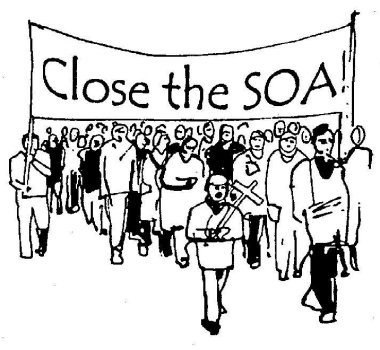 Most of the sentences were handed down July 12, following five days of plea hearings and trials before U.S. Magistrate Mallon Faircloth. In addition to the 29 people sent to prison, seven others received six months probation and a $500 fine. Many of those imprisoned were also fined $500-$5,000, depending on their perceived ability to pay.
The next morning, Rebecca Johnson, a staff member of SOA Watch, chained shut the Ft. Benning gate, and locked herself onto it beneath a sign that read "Lock up SOA/WHISC, Not Peacemakers!"
"I am called to act for real change in U.S. foreign policy towards Latin America. The SOA, under any name, teaches torturers, rapists and murderers that the U.S. will not divulge the secret of their crimes against humanity," she told supporters gathered in the nearby permitted demonstration area.
The gate reopened three hours later when Johnson was finally cut loose and arrested. Despite twice being barred for life from Fort Benning, Johnson was released without charges. A federal indictment is anticipated.
An Independent Media Center reporter videotaping Johnson's action was told he was trespassing on base property. Frank Solerno backed across the line and continued taping. Fifteen minutes later he was arrested and held for several hours, then released without charges. However, his notes, camera and all films were confiscated.
For the recently sentenced resisters, prosecution began in late April. Federal indictments charged 43 people with trespass at last November's mass demonstration. Not everyone arrested then was charged, and for a change, not all of those prosecuted had previously been barred from the base. Before court proceedings began July 8, six defendants had their charges dismissed on various grounds.
The first day in court, eight people pleaded guilty, and ten who had been previously barred entered pleas of not guilty, while stipulating to the facts of their arrest. All had an opportunity to address the court, and Faircloth engaged many in dialogue.
In remarks he prepared for the occasion, Fr. Bill O'Donnell suggested he be sentenced to "study at this infamous school for me to emerge after six months to tell the world: indeed the new institute has amended its way and teaches only nonviolence and democracy to its students..." Convinced that the man of the cloth was serious, the robed Faircloth said he would certainly consider the unusual sentence.
On Tuesday, Faircloth adjudicated the cases of those who had previously been barred from the base, pled not guilty, and stipulated to the facts.
The situation of previously barred defendant Lisa Hughes' differed from the other ten. She stipulated to crossing the line, but had not walked around the fence to reach the base. After the rally, marchers left their crosses, banners and other memorials on the fence and Hughes knelt on the grass to the side of the road praying in memory for the family of her honorary mother in El Salvador.
Faircloth found Ken Crowley, Fr. Jerry Zawada, Michael Pasquale, Toni Flynn, Sr. Kathleen Desautels, Rev. Erik Johnson, Rae Kramer, Kate Fantanazza, Fr. Bill O'Donnell and Mary Dean guilty. Lisa Hughes was found not guilty.
Ten more who were charged after their first line-crossing pled not guilty on Wednesday, July 10, while stipulating to the facts. Richard Ring, Rev. Charles Baker-Hirsch, Kathleen Boylan, Janice Sevre-Duszynska, Laura MacDonald, Jonna Cohen, Michael Sobol Golden, Nancy Gowen, Thomas Mahedy, and Fr. Louis Vitale were each heard, and all convicted.
Chani Geigle-Teller, Susan Daniels, and Niklan Jones-Lezama pled not guilty without stipulating to the facts, to compel the prosecution to present evidence against them. Judge Faircloth found the three defendants guilty despite absence of minimal evidence such as a deed to the property in question.
Faircloth then surprised those in court by offering a sentence of six months attendance at every class at SOA/ WHISC, as Fr. O'Donnell had proposed. Eligible defendants were given two days to consider the possibility.
Before five pro se defendants began their brief trials on July 11, Faircloth cleared defendants and their supporters from the courtroom. In the presence of only court personnel and a single reporter, Faircloth held a sentencing hearing for Maxwell Sadler, present with his local attorney, John Martin. A first-timer who pled guilty, Sadler had separated himself from the other 36 defendants and not participated in their collective support and legal meetings. According to a story in the Columbus Ledger-Enquirer, Martin told the court "that Sadler had trespassed after SOA Watch supporters assured him first-time crossers would not be prosecuted." [This is not SOA Watch policy during trainings for nonviolent direct action. - eds.]
Faircloth fined Sadler $2,000 and sentenced him to the maximum six months in prison. He was allowed voluntary self-surrender when a prison is assigned.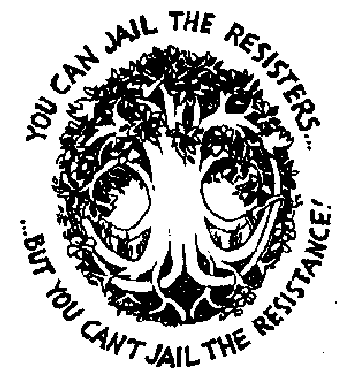 The courtroom was repopulated by the community of resisters. Five people then defended themselves before Faircloth. Summer Nelson and Abi Miller joined their cases, and both were convicted.
Peter Gelderloos called retired Major Joe Blair to testify about his work as an instructor at the SOA. Blair testified under oath that torture was taught there, in violation of a Presidential order, while he was an instructor, 1986-89. Faircloth asked Blair to accompany him on a tour of WHISC, so he might see it through Blair's eyes.
Blair acknowledged that WHISC no longer has a specific torture curriculum, but reminded the court that most of the militaries trained there are used to control civilian populations, and not for defense against external enemies. Gelderloos was found guilty as charged.
Palmer Legare defended himself, contending simply that he and the others should be acquitted based on international law. Legare was found guilty as charged.
The final defendant was John Heid, who argued his own case on Friday morning, July 13, and was convicted.
Sentencing began that afternoon for the 35 recent convicts. All were given the opportunity to address the court without a time limit. Seven who pled guilty and promised to abide by a ban on entering Fort Benning for five years were fined $500.
Fr. Bill O'Donnell explained why he and several others had declined the alternative of a sentence at SOA/ WHISC. The goal of the movement is to shut down the SOA immediately. Serving a sentence at the school could only diminish this demand and delay the necessary closing.
Five of those sentenced - Peter Gelderloos, Laura MacDonald, Summer Nelson, Toni Flynn, and Fr. Jerry Zawada - were taken into custody that day. They are currently in the Muscogee County Jail, awaiting assignment and transfer into the federal prison system. As they stepped into prison, SOA protester Steve Jacobs was departing Leavenworth Federal Prison Camp in Kansas for home, having completed his one-year prison sentence for repeatedly crossing the line at Ft. Benning.
The others posted a $250 bond, and will turn themselves in at their assigned prison when notified.
For more information, contact SOA Watch, POB 4566, Washington, D.C. 20017, (202)234-3440, email: info@soaw.org web: www.soaw.org.
Following is a list of defendants, their age and home town, and their sentence.
Fr. William O'Donnell, 72, Berkeley, CA, (six months, $1000 fine)
Fr. Louis Vitale, San Francisco, CA, (three months)
Toni Flynn, 56, Valyermo, CA, (six months, in custody now)
Jonna Cohen, 20, Denver, CO, (three months, $500 fine)
Michael Sobol, 18, Golden CO, (three months, $500 fine)
Kathy Shields Boylan, 58, Washington DC, (three months, $500 fine)
Richard Ring, 33, Atlanta, GA, (three months, $500 fine)
Mary Dean, 37, Chicago, IL, (six months, $1000 fine)
Sr. Kathleen Desautels, 64, Chicago, IL, (six months)
Fr. Jerry Zawada, 65, Cedar Lake, IN, (six months, in custody now)
Janice Sevre-Duszynska, 52, Nicholasville, KY, (three months, $500 fine)
Palmer Legare, Springfield, MA, (three months, $500 fine)
Rev. Charles Booker-Hirsch, 41, Ann Arbor, MI, (three months, $500 fine)
Maxwell Sadler Edwards, Waterville, ME, (six months, $2000 fine)
Summer Nelson, 26, Missoula, MT, (three months, $500 fine, in custody now)
Tom Mahedy, 39, Wall, NJ, (three months)
Rae Kramer, 55, Syracuse, NY, (six months, $5,000 fine)
Laura MacDonald, 23, Syracuse, NY, (three months, $500 fine, in custody now)
Mike Pasquale, 33, Syracuse, NY, (six months, $1000 fine)
Chani Geigle-Teller, 19, Salem, OR, (six months, $1000 fine)
Rev. Erik Johnson, 57, Maryville, TN, (six months, $1000 fine)
Kenneth Crowley, 60, Houston, TX, (six months, $1000 fine)
Niklan Jones-Lezama, 38, Blacksburg, VA, (six months)
Peter Gelderloos, 19, Harrisonburg, VA (six months, in custody now)
Abi Miller, 23, Harrisonburg, VA (three months, $500 fine)
Sue Daniels 41, Pembroke, VA, (three months, $500 fine)
Nancy Gowen, 68, Richmond, VA (three months, $500 fine)
John Heid, 47, Luck, WI (six months)
Kate Fontanazza, 53, Milwaukee, WI (six months, $1000 fine)

---
The following defendants were sentenced to six months probation and fined $500:
Brigid Conarchy, 23, Grayslake, IL, (also barred from entering Muskogee County for twelve months); Linda Holzbaur, 45, Ithaca, NY; Ralph Madsen, 68, Newtonville, MA; Shannon McManimon, 26,
Philadelphia, PA; David O'Neill, Elkton, VA; Leone Reinbold, Oakland, CA; Lee Sturgis, Elkton, VA. support action Letters of support should be sent individually to Peter Gelderloos, Laura MacDonald, Summer Nelson, Toni Flynn and Fr. Jerry Zawada, c/o SOA Watch at the address above. SOA Watch will forward mail to the prisoners. Prison addresses for all the defendants will be published as they become available at www.soaw.org. Ed. note Oct 3: they are also available at Inside and Out.
(Thanks to SOA Watch and their internet website for much of this report.)
---