The latest group of School of the Americas resisters to self-surrender and serve their federal prison sentences will begin reporting September 10. [see list at end of this article]
Meanwhile, five resisters who were imprisoned immediately after their July 12 sentencing learned they were to complete their three and six month federal prison terms in county jails in Georgia. Environmental and social justice activist Summer Nelson, 26, of Missoula, Montana and Laura MacDonald, 23, who works with disabled children in Syracuse, New York, remain at the Harris County Jail in Hamilton. All five were first moved there after several days at the Muscogee County Jail in Columbus, site of their federal trials. Nelson and MacDonald will both complete three month sentences on October 12.
On July 29, Toni Flynn, 56, a Catholic Worker and mother of four from Valyermo, California; Peter Gelderloos, 20, an activist from Harrisonburg, Virginia; and Fr. Jerry Zawada, 65, a Franciscan priest from Cedar Lake, Indiana, were taken to Cordele, Georgia, and the Crisp County Jail, a nightmarish facility that demands urgent protest and investigation. Deplorable conditions and serious medical neglect were reported by all three, who are serving six month sentences. A letter from Peter Gelderloos described the Crisp County Jail as "overcrowded and some inmates have to sleep on the floor. Our shower drain is clogged so water backs up. The diet is insufficient. I am often hungry. The drinking water is dirty, leaving sediment stains in my cup... We have telephones in our cells but the rates are sheer piracy... $15-$25 for a 15 minute out-of-state call. A large part of this is the connection fee and calls automatically cut off after 15 minutes, forcing inmates to call again and pay a new connection fee... I wasn't given any sheets or a towel for nine days after admittance..."
SOA Watch sent out an Urgent Action Alert asking that calls and letters demanding an investigation of the jail be sent to the regional director of the Federal Bureau of Prisons. Conditions worsened, and SOA Watch issued a second Urgent Action Alert on August 27:
The SOAW office received a call from Toni yesterday. She was coughing and choking as she explained that a prisoner had been maced in the hallway outside of her cell. When her cell filled with gas, the guards refused to move her to another location. Jerry's cell shares an air duct with Toni's and he also was subjected to the noxious fumes. Last evening's television news revealed that a prisoner in the Crisp County Jail had died of undisclosed causes. The report stated that the prisoner was being held in the medical wing of the jail. Toni indicated that there is no medical wing in the jail and that one of the jail staff people admitted to her that the woman had died in a padded isolation cell. Yesterday, Peter called one of his support people to say that he was being moved to the Atlanta Federal Penitentiary [he now has been]. This is one of their transport hubs and could be a stop along the way to a federal prison. Today, Toni and Jerry were interviewed by a Bureau of Prisons (BoP) official who was investigating our complaint. The presence of a federal investigator clearly shows that we are having an impact. WE MUST ACT NOW TO KEEP UP THE PRESSURE! Now is the time to let them know that the whole world is watching and they can't get away with treating people this way. [At press time, Flynn and Zawada have both been interviewed a second time by a BoP investigator, and both had been moved to two-person cells.]
HERE'S WHAT YOU CAN DO: - Call and fax Sheriff Donnie Haralson, and BoP SE Regional Director R.E. Holt to demand that conditions at the jail improve for all prisoners there. Urge them to have Toni and Jerry moved to a facility near their homes where they can receive visits from their families.
Sheriff Donnie Haralson, Crisp County Jail, (229)276-2646; fax: (229)276-2648. R.E. Holt Southeast Regional Director, Federal Bureau of Prisons, (678)686-1205; fax: (678)686-1229.
Come to Fort Benning, November 15-17, 2002 and take the place of those who have been incarcerated.
MORE ARRESTS AT FORT BENNING
Fresh from a ten-day Witness for Peace delegation to Colombia, 35 activists and more than a dozen other human rights activists vigiled at the Fort Benning gates on August 11. Three of the delegates climbed a ladder over the gate and were arrested.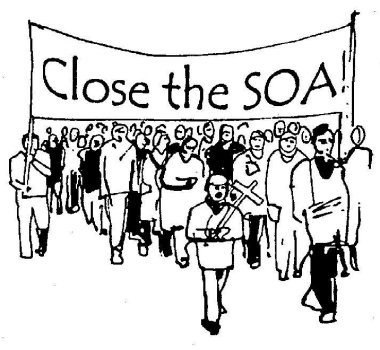 Sean Donahue, Barbara Howe, and Betsy Lamb were charged with trespass and destruction of property. Before crossing onto the base they held up signs bearing the words of a Colombian human rights activist they had met who had been tortured by an SOA graduate. "I have said from the first day that I forgive him. If I saw him today I would embrace him. But I can only be fully reconciled to him when the SOA is closed, where he learned to leave me trembling forever."
Barbara Howe commented, "What we heard over and over again is that U.S. military aid only entrenches the poverty and escalates the violence and perpetuates the war in Colombia." Since the U.S. began sending aircraft and on-the-ground training to Colombia in 2000, politically motivated killings have risen from 14 to 20 per day, and the number of kidnappings and disappearances has doubled.
The three were cited for trespass and destruction of government property, then released with ban and bar letters. Neither they nor Rebecca Johnson, arrested at the gate July 13, have received court dates.
CORRECTION
Following up on information suggesting that November 2001 defendant Maxwell Sadler did not in fact receive a six months prison sentence, a check with the Clerk of the U.S. District Court in Columbus confirms that the sentencing order on file includes six months probation, but no prison time. Sadler crossed the line for the first time last November, pled guilty to the indictment, had separated himself from the other 36 defendants, and had not participated in their collective support and legal meetings. The courtroom had been cleared of most witnesses prior to Sadler's sentencing, and the Columbus Ledger-Enquirer reported the maximum prison sentence in the defamatory context of Sadler's attorney telling the court that "[Sadler] had trespassed after SOA Watch supporters assured him first-time crossers would not be prosecuted." Another person present in the courtroom reported a note had been passed to the defendant and others after Magistrate Faircloth announced the prison sentence.
WASHINGTON, D.C., JURY DEADLOCKS
The week-long trial of the Rainbow Revolutionaries, eight activists charged with blocking and impeding traffic on the U.S. Capitol grounds during the Colombia Mobilization march last April ended with the jury deadlocked.
The trial in U.S. Superior Court began July 17 with warnings from the judge about the hazards of self-representation, the protesters' plan. One woman pleaded no contest the next day and received a $150 fine and one year unsupervised probation.
Three days of testimony, impressing even the judge, gave voice to the anguish of Colombia, a nation ravaged by 40 years of civil war fueled by U.S. arms exports and notorious for human rights abuses by soldiers and commanders trained at the School of the Americas.
The jury of twelve went out on Monday afternoon, and two days later the court finally accepted that they were deadlocked. Friday, July 26, federal prosecutors announced they will retry the case. Defendant Riley Merline then changed his plea to guilty so he could begin a two-year volunteer position with Witness for Peace in Nicaragua. He was not sentenced to jail.
The six remaining Rainbow Revolutionaries are asking supporters to call U.S. Attorney Roscoe Howard at (202)514-7566 and tell him not to waste public resources again by prosecuting these nonviolent actions by people of conscience.
For more information, contact SOA Watch, POB 4566, Washington, DC 20017, (202)234-3440, email: info@soaw.org web: www.soaw.org.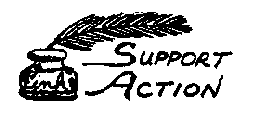 In addition to the action requested above in the Urgent Action Alert, individually addressed letters of support should be sent to Laura MacDonald and Summer Nelson, (both out 10/12/02); and to Toni Flynn, Fr. Jerry Zawada, and Peter Gelderloos, (all three out 1/12/03) c/o SOAWatch, address above.
Sign up for e-mail notification of future Urgent Action Alerts at www.soaw.org/new/email.php.
The following resisters are due to surrender at the specified prison on September 10 (unless otherwise noted). Sentence in months in [brackets].
Letters of support may be sent c/o SOAWatch, address above, and will be forwarded to the prisoner. This list will be updated sometime after September 10 at www.soaw.org
Kathy Boylan [3]
Susan Daniels [3]
Nancy Gowen [3]
Abi Miller #90692-020 [3]
-- all four to Alderson, WV
John Heid [6 + 1 for Project ELF action]
-- Schuylkill, PA
Richard M. Ring #91099-020 [3]
-- Lewisburg, PA
Kenneth F. Crowley #90963-020 [6]
-- Beaumont, TX
Erik Johnson #90971-020 [6]
-- Manchester, KY
Mary Dean #90965-020 [6]
-- Pekin, IL
Charles Booker-Hirsch #90961-020 [3]
-- Bradford, PA
Michael Sobol[3]
-- Littleton, CO 80123
Jonna Leigh Cohen #90962-020 [3]
-- Phoenix, AZ
Chani Geigle-Teller [6]
-- Dublin, CA
Fr. Louis Vitale [3]
-- surrenders October 3
Details pending for:
Fr. William O'Donnell [6]
Sr. Kathleen Desautels [6]
Janice Sevre-Duszynska [3]
Palmer Legare [3]
Tom Mahedy [3]
Rae Kramer [6]
Mike Pasquale [6]
Niklan Jones-Lezama [6]
Kate Fontanazza [6]

---