An October 15 parole hearing has been scheduled for imprisoned Israeli nuclear whistleblower Mordechai Vanunu, two weeks after the 16th anniversary of his kidnapping and imprisonment. Supporters around the world will be holding vigils demanding his immediate release in front of Israeli embassies and consulates on the September 30 anniversary date. If you are interested in organizing a vigil in your city, or want to learn where there may be a vigil near you, contact the U.S. Campaign to Free Mordechai Vanunu (address below).
Following up on a mid-May court hearing on several matters, Vanunu was denied the right to meet with his British lawyers, and was also denied access to his trial documents.
Recently, Vanunu was chosen for the 2002 Nuclear Free Future Award, in the resistance category. At the beginning of October, Nick and Mary Eoloff, his adoptive American parents, will travel to St. Petersburg, Russia to receive the award on his behalf. They will then travel to Israel to visit their adopted son at Ashkelon Prison.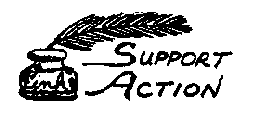 If you would like to make a contribution to their travel costs, please send a donation to The U.S. Campaign to Free Mordechai Vanunu, P.O. Box 43384, Tucson, AZ 85733, (520)323-8697, email: freevanunu@mindspring.com web: www.nonviolence.org/vanunu.
Letters of support, and birthday cards for his October 13 birthday, can be sent to Dr. Mordechai Vanunu, Ashkelon Prison, Ashkelon, Israel.
---