-Yury Bandazhevsky

An international campaign of anti-nuclear and human rights advocates has begun to build for the freedom of Dr. Yury Bandazhevsky, serving an eight-year prison sentence in the Republic of Belarus. Amnesty International has adopted Dr. Bandazhevsky as a prisoner of conscience, and the Nuclear Information and Resource Service (NIRS), the Washington, D.C.-based supporter of grassroots anti-nuclear campaigns around the world, is working to have some of his critical research published in Western professional health journals.

The radiation health researcher, whose measurements of post-Chernobyl radiation levels in children and food supplies reveal much more serious contamination than acknowledged by the government, was convicted on coerced (and later recanted) testimony of accepting bribes for admission to the medical research institute he headed until his arrest in 1999. A background piece on the NIRS website summarizes his situation:
"The original state prosecutor on this case insisted there was not enough evidence to convict Bandazhevsky on charges of bribery. The case was taken away from this prosecutor in February 2001 and he has disappeared from public view. He is believed to be in hiding. The legal action was then moved to a military court for which there is no appeals process. All the witnesses forced to testify against Bandazhevsky have since retracted their accusations, claiming they gave their remarks under duress either from threats to themselves or their families...
"Dr. Bandazhevsky suffers from heart and gastrointestinal problems; the first brief stint in prison nearly killed him. After many pleas during his first imprisonment, and before charges were issued, the police released him under house arrest to a colleague, Dr. Nesterenko. Dr. Alexander Nicolaievich Devoino, a colleague of these two men, was found severely beaten, bleeding and left for dead outside his home on June 20, 2001, two days after Bandazhevsky was sentenced...
"Dr. Bandazhevsky has publicly accused the government of misappropriating funds for Chernobyl recovery. We are afraid all associated with Bandazhevsky and his work are in danger, including his wife. Their house in Gomel is watched constantly. Our first concern is that Dr. Bandazhevsky have access to proper medical treatment while incarcerated, that he be allowed to read and write and that he be allowed more of the food he needs to cope with his illnesses.
"Ultimately, we demand his freedom since his arrest and trial procedures were in violation of several articles of the Belarusian Criminal Code as documented by the Organization for Security and Co-operation in Europe (OSCE)..."
For more information, contact your local Amnesty International chapter, or www.amnesty.org (search site for 'Bandazhevsky'), and NIRS, 1424 16th Street NW, #404, Washington, DC 20036; (202)328-0002; email: nirsnet@nirs.org, web: www.nirs.org
For more on Dr. Bandazhevsky and his scientific work, see www.bandazhevsky.da.ru/. Most of this text is in Russian.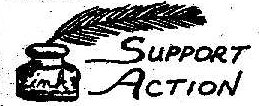 Given the authoritarian nature of the current Belarusian government, Bandazhevsky's case is politically sensitive. Please circulate, sign and send completed petitions (text below) to the Belarusian Embassy in your country's capitol. Letters only [no parcels] of support, in Russian, French or English, to Bandazhevsky and his wife, Galina Bandazhevskaya, are encouraged, as are letters of concern to the prison where he is incarcerated, politely asking for proper treatment and medical care.
Write to: Professor Yury I. Bandazhevsky, Ul. Kalvarijskaya 36, P.O. Box 35K, 220600 Minsk, Belarus.
Galina Bandazhevskaya, Ul. Pushkinskaya 34, kv.16, g. Gomel, Belarus.
Prison director: Ivan Ivanovich Bakhur, UZH 15-1, Ul. Kalvarijskaya 36, 220600 Minsk, Belarus.
Prison Physician: Dr. M.A. Tuchinsky, Director of Republican Hospital of the Interior Ministry (MVD), Ul. Kalvarijskaya 36, 220600 Minsk, Belarus.
Letters calling for Dr. Bandazhevsky's release may also be sent to Alyaksandr Lukashenka, Administratsia Prezidenta, ul. Karla Marksa 38, 220016 Minsk, Belarus, Fax: +375 172 26 06 10, ires@president.gov.by.
PETITION:
Valery Viliamovich Tsepkalo, Ambassador
Embassy of the Republic of Belarus
1619 New Hampshire Avenue, NW
Washington, DC 20009
(or your country's information)
Your Excellency,
We are deeply concerned about the recent trial and imprisonment of Dr. Yury Bandazhevsky, a scientist and researcher who investigated the effects of radiation at Chernobyl. We are particularly concerned with Dr. Bandazhevsky's well being and the conditions of his detention. We urge your government to take consideration of, and make provision for the state of Dr. Bandazhevsky's health. We also have reason to believe that the charges against him and the subsequent trial were unfair and lacked impartiality. We believe that the real reason for his detention might be an effort to impede his research and his criticism of the government. We believe that Yury Bandazhevsky is a prisoner of conscience and demand his immediate and unconditional release.
[signature, name & address]
---