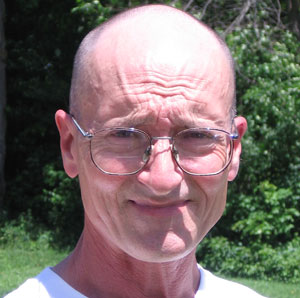 On Thursday, June 17, only three days after he was sentenced to six months of federal prison for carrying the protest against the School of the Americas onto Fort Benning, Michael Walli was released from jail.
Early Thursday, Michael was ordered to pack up his belongings from his jail cell. He expected that he would be  transferred to a federal facility but was then told by the wardens that he is free to go, without any further explanation.
From the jail, Michael managed to get to Father Roy Bourgeois' apartment at the gates of Fort Benning, Georgia. The two celebrated his release and Michael before Walli boarded a bus headed to his home in Washington, DC.
According to the Columbus Ledger Enquirer, U.S. Magistrate G. Mallon Faircloth reduced Michael's sentence to time served, stating, "After further consideration of his hardships I determined that time served was an appropriate sentence."
Background on Walli's sentencing
Washington, DC resident Michael Walli was one of four human rights advocates who were arrested during the annual November Vigil to close the School of the Americas / Western Hemisphere Institute for Security Cooperation (SOA/ WHINSEC). Michael Walli was sentenced on Monday, June 14, 2010 to six months in federal prison.
During his November arraignment, Michael told judge Malon Faircloth that he would not pay any bail and that he would not voluntarily return for the trial. Michael Walli made good on his promise and Faircloth issued a warrant for Michael's arrest. Federal marshals arrested Michael in March 2010 at the Dorothy Day Catholic Worker House in Washington, DC.
Ken Hayes, Father Louis Vitale and Nancy Gwin, the three human rights advocates who were arrested together with Michael Walli, were each sentenced in January 2010 to six months in prison as well – the maximum allowed for the charge of tresspass. The extremely harsh sentences are intended to deter others from following the example of the 'SOAW 4.'
"Those who speak out for justice are facing prison time while SOA-trained torturers and assassins are operating with impunity," said SOA Watch founder Father Roy Bourgeois.
The SOA/WHINSEC is a combat training school for Latin American soldiers. Its graduates are consistently involved in human rights atrocities and coups, including the El Mozote Massacre in El Salvador and last year's military coup in Honduras. In 1996 the Pentagon was forced to release training manuals used at the school that advocated the use of torture, extortion and execution.
SOA Watch works to stand in solidarity with people of Latin America, to change oppressive US foreign policy, and to close the SOA/WHINSEC. In November 2010, thousands will return to the gates of Fort Benning to call for justice and accountability.
Send a message of solidarity to the prisoners:
www.SOAW.org/about-us/pocs/150-articles/3421-write-to-the-soa-watch-prisoners-of-conscience
Make plans to join the November Vigil at the gates of Fort Benning:
soaw.org/take-action/november-vigil
School of the Americas Watch, www.SOAW.org
# # #