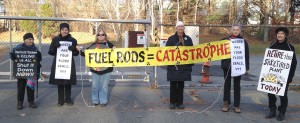 from the Shut It Down affinity group
BRATTLEBORO, VT—"Where are your flood seals, VY?" the Shut It Down affinity group asked at the gates of the Entergy Vermont Yankee nuclear power plant on the afternoon of November 12.
Carrying a banner equating catastrophe with the meltdowns at Fukushima, Japan, women of the affinity group cited recent federal Nuclear Regulatory Commission reports of flood seal failures at the Vermont Yankee plant.
If flood seals fail, safety systems fail, according to the Tuesday, November 12, 2013 account of the NRC report.
Arrested for holding signs in front of the Vermont Yankee power plant gate proclaiming "Fuel Rods Equal Catastrophe" and "Where are your flood seals, VY?", eight Shut It Downers were booked and released by Vernon Police Chief Mary Beth Hebert.
Those arrested were, from Vermont, Linda Pon Owens, 74, of Brattleboro, and Ulrike von Moltke, 64, of Sharon; from Massachusetts, Anneke Corbett, 70, of Florence; from Massachusetts, Susan Lantz, 74 and Frances Crowe, 94, of Northampton; Hattie Nestel, 74, and Marcia Gagliardi, 66, of Athol; Priscilla Lynch, 64, of Conway.
Chief Hebert arrested the women. No charges were assigned.