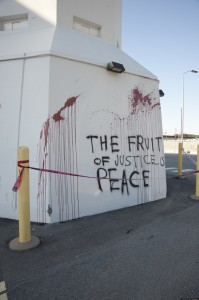 The Sixth Circuit Court of Appeals has assigned the oral argument on the sabotage charge in the case of the Transform Now Plowshares – Greg Boertje-Obed, Michael Walli and Sr. Megan Rice – for March 12 at 9 a.m. in Cincinnati, Ohio.
Each side will be given 15 minutes to argue. The decision will probably come out weeks later.
For more information about the Transform Now Plowshares, click here.
If you'd like to write to the three imprisoned activists, their addresses can be found here.
Background on the appeal:
Two years after Megan Rice, Greg Boertje-Obed and Michael Walli entered the Y12 Nuclear Weapons Complex in Oak Ridge, TN to issue an indictment against the continuing production of nuclear weapons components there and to oppose plans for a multi-billion dollar Uranium Processing Facility which would produce thermonuclear cores for US weapons, and fifteen months after their conviction in federal court in Knoxville, TN on charges of sabotage (at which point they were held in jail), and six months after they were sentenced to prison terms ranging from three to five years, lawyers for the Transform Now Plowshares resisters have filed an appeal in the Sixth Circuit court of appeals in Cincinnati, OH challenging the government's use of the Sabotage Act, and the prosecutions efforts to prejudice the jury by inappropriately presenting testimony of prior offenses and invoking a comparison of the nonviolent demonstrators to 9/11 terrorists.
The appeal (you can access it below or under the Legal Arguments button above) asks the Sixth Circuit to reverse the defendants' convictions. The arguments articulate what many of us who witnessed the proceedings firsthand felt during the trial—the prosecution sought to twist the law in a way that would achieve a conviction and, in so doing, subverted justice. "How can this be?" we wondered.
It turns out it can't be, at least not legally. The appeal cites Berger v. United States in pointing out that "a prosecutor's interest is not simply to 'win a case, but that justice may be done.' While he (sic) may strike hard blows, he may not strike foul ones."
The appeal asserts that the prosecutor knowingly and wrongly conflated harm with the Y12 Nuclear Weapons Complex with harm to the national defense, and the court failed to distinguish between the symbolic action of the Transform Now Plowshares resisters and previous Plowshares actions that damaged actual apparatus of nuclear attack. The appeal also notes that motive—wishing to advance the cause of global nuclear disarmament—is not the same as an intent to disrupt Y12 operations.
The appeals team asks the sixth circuit to hear oral arguments. The appeal was prepared by the law firm Orrick, Herrington & Sutcliffe LLP with assistance from Bill Quigley and Anna Lise Lellilid-Douffet from the original defense team.