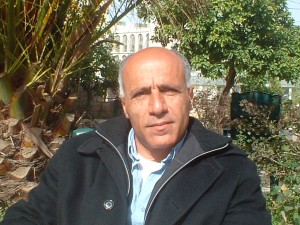 Israeli nuclear whistleblower Mordechai Vanunu was arrested on September 10 because Israeli police, at the direction of the Shin Bet, claim his recent Channel 2 interview violates the terms of his release from prison (he was released in 2004 with strict conditions after serving his entire 18 year sentence). But government censors had approved the Channel 2 interview before it aired! After several hours of interrogation by police, he was released to 7 days of house arrest.
The Court has also ordered Channel 2 to hand over video of the interview, including unaired footage.
In 1986, Vanunu shared photos he took inside the Dimona nuclear facility with the London Sunday Times, which revealed proof to the world that Israel had a sizable nuclear arsenal. He was kidnapped from Rome by the Mossad, drugged and taken in chains to Israel, where he was found guilty of treason and espionage at a secret trial and sentenced to 18 years in prison. In spite of serving the full sentence at Ashkelon Prison (including 11 1/2 years in solitary confinement), the Israeli government handed down severe restrictions upon his release in April 2004, including not being allowed to speak to foreigners or leave Israel. The restrictions are renewed every year.
Vanunu hasn't worked as a technician at Dimona since 1986 – he has no more secrets to reveal. He deserves his freedom NOW!
From the Guardian here.
From Haaretz here.
From the Jerusalem Post here.
Interview with Daniel Ellsberg about Vanunu's arrest: