Indian Springs, NV – On Friday, April 1, morning traffic at Creech Air Force Base was diverted by dozens of peace and justice activists attempting to shut down the armed drone attack program through nonviolent civil resistance. At 7:45 a.m., twelve peaceful resisters were arrested at the two main gates of Creech. At 10:00 a.m. another six were arrested at the main East Gate while blocking the entrance with "crime scene" tape, referring to the criminal activity of weaponized drone terrorism conducted at Creech, killing thousands of non-combatants and civilians over the past decade.
During the first action at 7 a.m., six children and eight adults, all dressed as angels, performed a mock funeral to demonstrate the gruesome "double tap", a procedure used by the military to use drone strikes to attack family members during a funeral procession for a previous drone victim. A young ballerina led the procession, laying red roses in the road. She was followed by other children, who carried a casket into a restricted area at the main gate. The group re-enacted a drone strike, spilling baby doll and adult mannequin body parts onto the road. None of the children were arrested.
Blockades of the highway and base gates held up traffic for an hour or more at a time.
The day's arrests, conducted by Las Vegas Metropolitan police, were the last waves of repression this week from Clark County, which has failed to investigate or stop the alleged extra-judicial assassinations conducted at Creech. Fifteen of the justice and peace activists arrested on April 1 received citations for jaywalking, and three received citations for trespassing on federal property.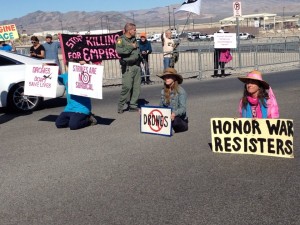 The 18 activists arrested on April 1 were: Toby Blome, MaryKate Glenn, Shirley Osgood, Chris Nelson, Mahaia Oliveira, Tyler Schaefer, Dennis Duvall, Rev. Felicia Parazaider, Susan Witka, Fred Bialy, Ron Foust, Arla Ertz, Brian Terrell, Leslie Angeline, Cynthia Papermaster, John Ford, Rene Espleland and Flora Rogers. All were released except for Brian Terrell, who is being held until arraignment on Sunday, April 3. [Update: Brian was released from jail on Monday evening, April 4.]
Nevada Desert Experience (NDE) is an active non-profit organization in support of this week's anti-killer-drone protests at Camp Justice. Camp Justice is organized by Veterans For Peace, Code Pink, NDE, and Voices for Creative Nonviolence. For more information, see NevadaDesertExperience.org or call 702-646-4814.