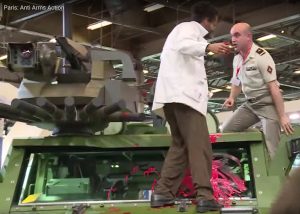 Opening day of the Eurosatory Arms Expo, June 13, was enlivened by 50 activists from the French collective Désobéir (Disobey) as they took several simultaneous actions against war. Professionally attired activists entered the suburban Paris exhibition hall, where some crossed the rope lines and climbed on board a Leclerc tank and another vehicle, unfurling banners and pouring red paint on the weapons. A few took photos and video of the protest while others inside displayed banners and spoke out against the business of killing. Outside, more activists rallied and some blocked the doors to the exhibition hall, which had been marked with red paint as well.
Police eventually forced all of the demonstrators out of the building. They took 15 to the station for questioning and identity checks before releasing them four hours later. A complaint has been filed by the Ministry of Defense and expo organizers, and the group may face criminal charges.
Group spokesman Rémi Filliau said, "Eurosatory is itself a crime against peace. Amnesty International reveals that even a French company is here to promote torture equipment! The Leclerc tank that we acted on today, a product of the French company Nexter, was shown during the recent war in Yemen." Countries subject to United Nations arms embargoes were also among the exhibitors and registered attendees.
For more information, visit desobeir.net.