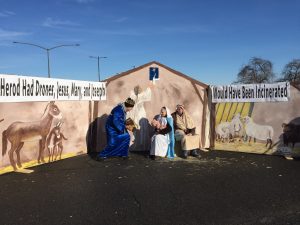 from Update Drone Action
On December 23, as many throughout the world prepared to celebrate the birth in Palestine of Jesus, the Prince of Peace, four members of the grassroots group Upstate Drone Action were arrested at the main entrance of Hancock Reaper Drone Base on East Molloy Road in the town of DeWitt in upstate New York.
In the morning, before being arrested, the four set up a nativity manger scene in the driveway entrance to the Hancock base. Angels and carolers played a supporting role from across the street. Hancock hosts the 174th Attack [sic] Wing of the NY Air National Guard – the MQ9 Reaper drone hub. Hancock is also the national Reaper maintenance training center.
The MQ9 Reaper is a robotic, satellite-linked, remote assassin flying unmanned missions over Afghanistan and other mid-eastern, African and west Asian nations. The CIA uses Reapers for its illegal, lethal missions over northwest Pakistan.
According to "LIVING UNDER DRONES: Death, Injury and Trauma to Civilians from U.S. Drone Practices in Pakistan ," published by Stanford University and New York University Law Schools, such missions are responsible in that region for the deaths of hundreds of noncombatants, including women and children, and for the terrorizing of thousands more.

Bev Rice, one of the protesters arrested, noted that "If Herod had had a Reaper, Jesus, Mary and Joseph would have been incinerated." John Amidon, also arrested, further declared, "The indiscriminate and illegal killings of so many holy families in the Mid-East must stop!"
The civil resistance action is one chapter in Upstate Drone Action's six-year scrupulously nonviolent campaign to expose the Hancock AFB war crime. Since 2010 there have been over 170 anti-Reaper arrests at Hancock. These have resulted in extreme bails, maximum fines, incarcerations, and so-called "Orders of Protection"…as well as some acquittals in the De Witt Town Court.
Those arrested:
~ John Amidon, Albany, NY
~ Ed Kinane, Syracuse, NY
~ Jules Orkin, Bergenfield, NJ
~ Bev Rice, New York, NY
Update: All four protesters were later released with charges of trespass, two counts of disorderly conduct, and obstruction of government administration (a misdemeanor). Their first court appearance will be in late January in DeWitt Town Court.