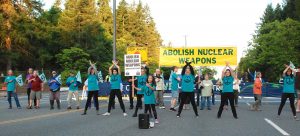 from Ground Zero Center on Nonviolent Action
Sixty people were present on August 5th at a flash mob demonstration against Trident nuclear weapons at the Bangor submarine base. The demonstration was in the roadway at the Main Gate of the Trident nuclear submarine base during rush hour traffic. To see flash mob performance and related videos, please see https://www.facebook.com/groundzerocenter.
At around 6:30 a.m. on Monday, over thirty flash mob dancers and supporters entered the roadway carrying peace flags and two large banners stating, "We can all live without Trident" and "Abolish Nuclear Weapons." While traffic into the base was blocked, dancers performed to a recording of War (What is it good for?) by Edwin Starr. After the performance, dancers left the roadway and eleven demonstrators remained. The eleven demonstrators were removed from the roadway by the Washington State Patrol and cited with RCW 46.61.250, Pedestrians on roadways.
About 30 minutes later, and after being cited, five of the eleven demonstrators reentered the roadway carrying a banner with a quote by Dr. Martin Luther King, Jr., which stated, "When scientific power outruns spiritual power, we end up with guided missiles and misguided men." The five were removed by the Washington State Patrol, cited with RCW 9A.84.020, Failure to disperse, and released at the scene.
Flash mob performers largely consisted of fourteen members of Susan Delaney's extended family. Main performers included seven-year-old Adrianna and twenty-year-old Anteia. War (What is it good for?) was one of the first Motown songs to make a political statement. War, written by Norman Whitfield and Barrett Strong, performed by Edwin Starr and released in 1970, became an anti-war anthem during the Vietnam War era.
Those cited by the Washington State Patrol for remaining on the roadway after the flash mob performance: Susan Delaney of Bothell; Philip Davis of Bremerton; Denny Duffell and Mark Sisk of Seattle; Mack Johnson of Silverdale; and Stephen Dear of Elmira, Oregon.
Those cited by the Washington State Patrol for remaining on the roadway after the flash mob performance and for reentering the roadway a second time: Judith Beaver of Sequim; Michael "Firefly" Siptroth of Belfair; Glen Milner of Lake Forest Park; Charley Smith, of Eugene, Oregon; and Victor White of Oceanside, California.
The demonstration on August 5th was the culmination of a four-day event at Ground Zero Center for Nonviolent Action. On Sunday, August 4th, David Swanson, a longtime peace activist, author, and radio host spoke at the Ground Zero Center for Nonviolent Action. His presentation, The Myths, the Silence, and the Propaganda That Keep Nuclear Weapons in Existence, may be read here.
There are eight Trident SSBN submarines deployed at Bangor. Six Trident SSBN submarines are deployed on the East Coast at Kings Bay, Georgia.
Each Trident submarine was originally equipped for 24 Trident missiles. In 2015-2017 four missile tubes were deactivated on each submarine as a result of the New START Treaty. Currently, each Trident submarine deploys with 20 D-5 missiles and about 90 nuclear warheads (an average of 4-5 warheads per missile). The warheads are either the W76-1 100-kiloton or W88 455-kiloton warheads.
The Navy is currently planning to implement a smaller W76-2 "low-yield" or tactical nuclear weapon (approximately 6.5 kilotons) on ballistic submarine missiles at Bangor, dangerously creating a lower threshold for the use of nuclear weapons.
One Trident submarine carries the destructive force of over 1,300 Hiroshima bombs (the Hiroshima bomb was 15 kilotons).
The Ground Zero Center for Nonviolent Action was founded in 1977. The center is on 3.8 acres adjoining the Trident submarine base at Bangor, Washington. We resist all nuclear weapons, especially the Trident ballistic missile system.