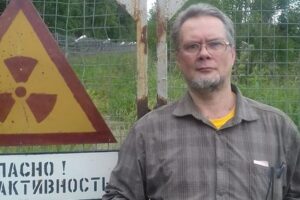 from the Ukraine War Environmental Consequences Work Group
By Aleksei Ovchinnikov
Translated by Jennifer Castner
Expert anti-nuclear Russian campaigner and public figure Andrey Ozharovsky was accused in August 2022 of discrediting Russia's state atomic energy corporation, RosAtom. An administrative legal case is being filed against him. In the meantime, Ozharovsky has repeatedly made public statements and continues to serve as a regular expert guest in mass media, including on official Russian channels.
To inform his advocacy, Ozharovsky has visited the Chernobyl Exclusion Zone and Fukushima disaster area. He is the author of a teacher's guide titled Chernobyl Lessons and co-authored a number of reports on nuclear energy problems. He has contributed expert input to several public environmental assessments of nuclear power plants projects and participated in dozens of public hearings on nuclear power (including nuclear power exports to Belarus, Finland, and Turkey), radioactive waste management, and other Rosatom projects, collaborating with a host of NGOs and participating in the work of the UN Commission on Sustainable Development, Conference on Risk Reduction, and the UN Climate Talks. Ozharovsky has been arrested for his advocacy work several times and was expelled from Belarus with a ten-year travel ban.
As Ozharovsky explained in a YouTube video, he is accused of discrediting both Russia's armed forces and Rosatom, the state atomic energy corporation, using the exact same terminology used in an IAEA report. An indirect stimulus for these accusations could be related to his vocal criticism of the Russian armed forces' seizure of Ukrainian nuclear facilities.
The most frequent question posed by journalists is "What happens if a projectile or missile hits a working power unit?" A physicist by education, he has studied the Soviet and post-Soviet nuclear industry at great length. Ozharovsky gave a detailed and studiously objective answer to that question based on data he has collected. He gave commentary to a wide range of media, both pro-state and pro-Russian radio Sputnik, the Russian defense channel Zvezda, Channel One, opposition media in Russia, and media in other countries, including Poland, Kazakhstan, and Germany.
Ozharovsky highlights the fact that his stance is based on objective information, including International Atomic Energy Agency (IAEA) data. It seems that in Russia, however, citing the IAEA can be perceived as a discreditation of Russia's military and Rosatom, given that IAEA reports mention "seizure of control over a nuclear installation facility by force," "violent actions," "increased risk of nuclear accident or incident," and "aggression."
Prosecution of the case against Andrey Ozharovsky is revealing. He was issued no official summons, receiving only an email containing a image file of a letter on 26 September inviting him to appear at the district police department to "provide an explanation." The letter noted that Ozharovsky had posted materials on his personal Facebook page discrediting the Russian armed forces, an action that bears administrative liability in accordance with Article 20.3.3 of Russia's Administrative Offenses Code. Conviction for these violations can result in penalties of up to 50,000 rubles (currently ~$900), but could potentially result in jail time.
A district police officer who introduced himself as Rashad Asadov gave a statement to the effect that Ozharovsky was invited for "a conversation" and offered him the opportunity at that time to familiarize himself with the statement against him and review associated documents.
Ozharovsky believes that one of the case's supporters could be Rosatom itself. He is known to have amassed a large database of officially-undocumented radioactive waste disposal sites in Russia. Some of them are even located within Moscow city limits. For example, local residents have encountered large radioactive fragments along Kashirskoe Highway. The expert also published information about leaking radioactive waste storage in Novosibirsk and Kirovo-Chepetsk.
This is not the first administrative case related to Russia's seizure of Ukrainian nuclear power plants. In September, Urals-based anti-war activist Viktor Kazakov was convicted of posting on Facebook. Evidence for the accusation included an interview with Andrey Ozharovsky, while another was a link on the UN's High Commissioner for Human Rights website. Kazakov, a pensioner, was slapped with three fines that he plans to challenge in Sverdlovsk Regional Court.
Like other activist members of the Belarusian Anti-Nuclear Campaign (BANC), Andrey Ozharovsky was persecuted in Belarus in the 2010s for his anti-nuclear activities. In 2012, he was even expelled from the country and received a ten-year entry ban that was ultimately suspended in 2020.
The Belarusian government prosecuted these repressive cases against Andrey Ozharovsky and other BANC activists, a violation of the principles of public participation in the Aarhus Convention. This was one of the first precedent-setting convictions under this agreement for international consideration of the persecution of environmental activists. Belarus will fully withdraw from the convention on 24 October 2022. Read more about Belarus' exit from the Aarhus Convention and its consequences in UWEC's conversation with Marina Dubina.
"Nuclear energy is an obsolete technology from the last century. It creates too many problems and too few benefits. Noone shall be allowed to build dangerous reactors and produce dangerous nuclear waste. Nuclear energy must be stopped," said Ozharovsky. Today, Andrey Ozharovsky continues to provide expert input on the timely topic of nuclear safety and document nuclear waste challenges. UWEC Work Group wishes him success in his case and will continue to monitor his possible situation with administrative prosecution. UWEC Work Group also denounces any persecution of activists for their anti-war statements and political statements.