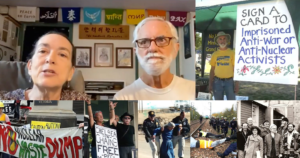 Thanks to all of the people who joined us on Zoom on December 3 to celebrate – not just 42 years and 200 issues of
the Nuclear Resister
– but four+ decades of a vibrant, persistent, creative, international, inspiring, courageous and hopeful resistance movement for a peaceful and nuclear free future!
Since 1980, the Nuclear Resister has reported on more than 100,000 anti-nuclear and anti-war arrests while encouraging support for more than 1,000 imprisoned activists. The special online celebration includes photos, songs and stories from decades of direct actions and more, honoring our resistance history and drawing inspiration for today's movement for a peaceful, nuclear-free future.

For those of you who weren't able to attend, here's the link to watch the video.
Below are some helpful links that were posted in the chat.

And here's how you can take action:

PRISONER SUPPORT
Write notes of support to Native American political prisoner Leonard Peltier and drone war whistleblower Daniel Hale. Their prison addresses and mail restrictions can be found here:
http://www.nukeresister.org/inside-out/
Write to President Biden to ask that he grant both prisoners clemency and free them immediately (please send separate letters on behalf of each of them). Instructions are here:
https://worldbeyondwar.org/wp-content/uploads/2022/12/Clemency-support-and-action-page.pdf
ACTIONS ON JANUARY 22
Organize an event or action on January 22 to mark the 2nd anniversary of the Entry into Force of the Treaty on the Prohibition of Nuclear Weapons. For some ideas and inspiration, you can watch this brief video of actions across the U.S. taken on January 22, 2021, when the treaty entered into force. (
https://vimeo.com/515883787
) The Nuclear Ban Treaty Collaborative will have a planning meeting on January 10 at 7 p.m. eastern if you'd like to find out more. You can register here. https://us02web.zoom.us/meeting/register/tZYpdOyuqDMpE9OXKhV7s-3WwY56wzvWOnH1
Last but not least, thank you for your donations to help us carry on the work of the Nuclear Resister!
Peace,
Felice and Jack Cohen-Joppa