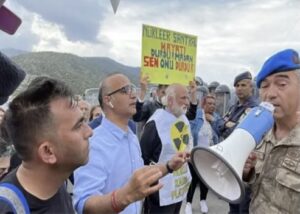 from
Duvar English
Three temporarily detained in Mersin for protesting against nuclear power plant's opening
The Turkish gendarmerie temporarily detained Workers' Party of Turkey (TİP) parliamentary candidate Hakan Güneş and two anti-nuclear activists for protesting against the opening ceremony of the Mersin Akkuyu Nuclear Power Plant.
The Turkish gendarmerie on April 27 temporarily detained two anti-nuclear activists and Workers' Party of Turkey (TİP) parliamentary candidate Hakan Güneş as they reacted against the delivery of nuclear fuel to the Akkuyu Nuclear Power Plant (NPP) in the Mediterranean Mersin province. The three were later released.
The Akkuyu NPP on April 27 received "fresh nuclear fuel" to be used in power generation. With this step, the facility was technically opened by receiving the status of "nuclear power plant." After this step, the test phase for energy production is scheduled to begin.
Nuclear opponents set out early to protest the ceremony on April 27. On the way to Akkuyu, citizens were repeatedly stopped by law enforcement officers and subjected to general information checks (GBT). Finally, they were stopped by the gendarmerie just a short distance from Akkuyu NPP.
After the brawl, the gendarmerie intervened against the nuclear opponents and detained three citizens.
According to an inter-state agreement signed between Turkey and Russia in 2010, Rosatom, the Russian Nuclear Atomic Corporation, will build the plant and operate it for 20 years. Even though the first of the plant's four reactors is expected to become operational in 2023, it will take until 2026 for the plant to operate at full capacity.
Even when the power plant operates without any accidents, it will still release radioactive dust into the environment. Agricultural products grown in Mersin, such as strawberries and bananas, will be labeled as "containing radioactive waste."
President Recep Tayyip Erdoğan joined the ceremony by videolink rather than travelling there due to poor health that forced him to cancel campaign rallies this week.
Russian President Vladimir Putin also took part in the ceremony virtually and hailed Moscow's burgeoning energy and wider economic ties with Ankara.