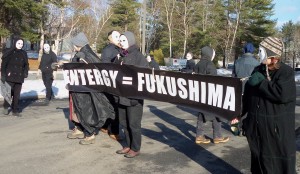 As they participated in a walking meditation in the Entergy Vermont Yankee nuclear power plant driveway to mourn cancer deaths caused by radioactive emissions, fourteen women of the Shut It Down Affinity Group were arrested Wednesday, January 18 by Vernon police and Vermont state police when they refused to move.
All were transported to and booked at the Vernon police station where Chief Mary-Beth Hebert coordinated collection of data for later charges. At the power plant, Chief Hebert told the women they would be charged with unlawful trespass, but no citations were issued during the bookings and no arraignment dates were provided.
Hattie Nestel, the first to be booked, said the arresting officer handed her a citation for unlawful trespass with a February 14 arraignment date. However, after conferring with another Vernon police staffer, the officer asked Nestel to give back the citation. "He told me the state's attorney had called and instructed Vernon police not to issue court dates, and citations would be mailed to us," Nestel said. None of the women received written citations nor arraignment dates during the booking.
The arrest marked the fourteenth time since 2005 that women of the group have acted either at the nuclear power plant or Entergy headquarters in Brattleboro to shut down Vermont Yankee.
During Wednesday's silent procession at Vermont Yankee before the arrests, the women participated in a walking meditation while remembering friends, family, and all who have died from or suffer from cancer caused by radioactive emissions. The participants wore black clothing and donned white death masks during the procession.
Mindful of possible slippery conditions from recent cold weather and icing, the women took particular care to guide the steps of their friends Nelia Sargent, who is legally blind, and Frances Crowe, who recently experienced a fall down stairs. Temperatures hovered in the teens during the procession.
Participants included, from Vermont, Julia Bonafine, 43, of Shrewsbury and Nina Swaim, 73, of Sharon; from New Hampshire, Sargent, 56; from Massachusetts, Ellen Graves, 71, of West Springfield; Anneke Corbett, 69, of Florence; Cate Woolner, 61, of Northfield; Sandra Boston, 71, of Greenfield; Betsy Corner, 64, of Colrain; Paki Wieland, 68, Crowe, 92, Susan Lantz, 71, and Nancy First, 82, all of Northampton; Marcia Gagliardi, 64, and Nestel, 72, of Athol.
Supporters for the action were, from Massachusetts, Mary-Ann Palmieri of New Salem and Ellen Kaufmann of Greenfield.
The women issued a statement after the action:
"No corporation has the right to poison our air, water, environment, and the future of humanity.  We come to Vermont Yankee today representing the harbingers of death that emanates from this reactor.
"We cry for the suffering and poisoning of the aquatic life in our Connecticut River and for all life that surrounds it and is polluted by it.
"We cry for our children, their children, and those many generations that will have to suffer from the poisons that are emitted from Vermont Yankee and the other 103 commercial reactors in the U.S. We call on the state to act responsibly and join us in shutting down Vermont Yankee NOW!
"We call on all persons who do not want to see their air, water, environment, and life killed by this nuclear reactor to join us in shutting it down by such citizens' nonviolent actions now.
"Don't wait-tomorrow may be too late!"