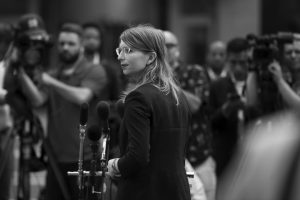 from The Sparrow Project
Alexandria, VA — Today (May 31), Chelsea Manning and her legal team filed a Motion to Reconsider Sanctions, in which they ask Judge Anthony Trenga to release Chelsea from confinement, and ask that he modify the fines he imposed on her.
During the May 16th contempt hearing, Judge Trenga found Ms. Manning in contempt of court and ordered her confined for the term of the grand jury. Judge Trenga also imposed graduated fines to be assessed at $500 per day starting after 30 days of confinement, and jumping to $1,000 per day after 60 days, for as long as she refuses to comply with the court's order to answer questions before the grand jury.
» Read more…