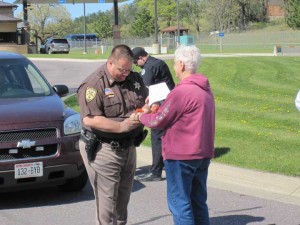 from Joy First   
Seven citizen activists were arrested for calling for an end to drone warfare at Camp Williams/Volk Field in Wisconsin on  April 24.  They are joining together with activists in New York, Nevada, California, Missouri, Illinois, and Maryland who are risking arrest in actions as they raise their voices to draw attention to the travesty and illegality of drone warfare.
Camp Williams/Volk Field, a training site for drone pilots, is located in rural central Wisconsin.  As families in Wisconsin are struggling to make ends meet, there are plans underway to build an $8 million drone training facility at the base, using both state and federal money.
On Tuesday, thirty-three peace activists from all corners of the state and from Illinois gathered at the gates of the base, as they have done on the last Tuesday of every month since December 2011.   For five months they have sent a letter to Commander Ebben asking to meet with him to discuss their concerns.  They have yet to receive a response.
Stopping drone warfare is a serious and urgent matter.  It is difficult to get accurate statistics because our government is trying to cover up the facts, but the Bureau of Investigative Journalism reports that between 2,373-2,997 people have been killed in drone attacks.  Anywhere from 391-780 of those killed are innocent civilians.  Over 175 children have been killed in the attacks.  These are parents who love their children just as much as we, in this country, love our children.  You can Google images of drone victims to see the real horrors of what this means.
In an addition, drone warfare is illegal.  The use of drones goes against the UN Charter, the Geneva Conventions, the Hague Conventions, and the principles of the Nuremburg Tribunal.  They are also against US, and other international human rights laws, the laws of war, and the law applicable to the use of inter-state force.  They constitute extra-judicial killings.
Drones are not making us safer.  More and more young men in Afghanistan, Pakistan, Yemen, Somalia, and other places around the world are joining groups that will retaliate against the United States for the murder of their loved ones.
Because there has been no response from Commander Ebben in five months, the group decided that they would walk onto the base during the April vigil to seek a meeting.  With copies of the letter and pictures of drone victims in hand, seven individuals, Bonnie Block, Joyce Elwanger, Joy First, Libby Pappalardo, Mary Beth Schlagheck, Don Timmerman, and Roberta Thurstin walked onto the base.
The Juneau County Sheriff was standing with deputies just inside the base and he advised the group that if they walked any further onto the base they would face arrest.  They continued walking and began reading the letter to Commander Ebben aloud as Juneau County deputies handcuffed them and led them to police cars.
They were transported to the Juneau County jail in Mauston where they were charged with disorderly conduct, processed, and released within three hours.  They have an initial court appearance scheduled for June 6.
LETTER SENT TO BASE COMMANDER
April 15, 2012
Colonel Gary Ebben, Commander
Volk Field/Camp Williams
Camp Douglas, WI 54618
Dear Colonel Ebben,
We are again writing to request a meeting with you regarding the construction of the drone training facility and the Shadow drone training already occurring at Volk Field.  As informed citizens we object to the use of our tax dollars for what we believe is illegal and immoral drone warfare that not only causes many innocent civilian deaths but is also making us less safe because it increases the number of people who consider America their enemy.
We have petitioned our state legislators, been to the State Building Commission meetings, and contacted our members of Congress calling for an end to this illegal and immoral type of warfare all to no avail.  As you know we have also held monthly vigils at the gates of Volk Field to express our strong opposition to any activities related to the use of unmanned aerial vehicles.
We understand that Camp Williams/Volk Field trains personnel in the use of Shadow drones, with the payload being cameras rather than bombs.   However, there is little difference between selecting targets and actually executing the people targeted.
It is shocking to us that our government has used drones to assassinate suspected terrorists, including U.S. citizens, without even a pretense of due process.   Our country should not act as though the rule of law doesn't apply to us.
The U.S. Constitution guarantees due process to U.S. citizens, and higher laws suggest that we afford due process to non-citizens.  The Nuremberg Principles obligate us to take action in order not to be complicit with the war crimes of our government.  The Nuremberg Principles forbid wars of aggression, attacks on civilians and extrajudicial assassinations, all earmarks of drone warfare.  Under these same Principles we as citizens have a duty to act where we can to prevent violations by our government.
Our gravest concern remains the innocent civilians, including the many children who are being murdered by our government through drone warfare.   We must end this despicable practice.
For this reason we are urgently asking you to meet with us.  We will be standing in solemn vigil just outside the gates of the base on April 24th  from 3:30-4:30 pm.  If we don't hear from you about meeting, a small group will enter the base to try to deliver the letter.  We can wait no longer.  People are dying and this matter is urgent.
For peace,
Joy First, Madison Pledge of Resistance,  joyfirst5@gmail.com
Bonnie Block, Madison Pledge of Resistance,  bblock@charter.net
Charles Bradley
Char Brandl
Buzz Davis
Judith Detert-Moriarty
Joyce Ellwanger
Jennifer First
Steve First
Mark M Giese
Jim Guilfoil
Nancy Katzbeck
Jacqueline Kelley
Todd Kummer
John LaForge
Virgine Lawinger
Maureen McDonnell, OP
John Mcginley
Judy Miner
Phyllis Noble
Brad Palmer
Janet Parker
Mary Roberts
Joseph Rogozinski
Mary Sanderson
Larry Skupien
Dave Steffenson
Roberta Thurstin
Don Timmerman
Bonnie Urfer
Barbara Vedder
Jean Verber
Elizabeth Villalobos
Rich Zietko
Madison Pledge of Resistance, Wisconsin Network for Peace and Justice, Community of Casa Maria, Milwaukee WI, Nukewatch,  Madison Women's International League for Peace and Freedom