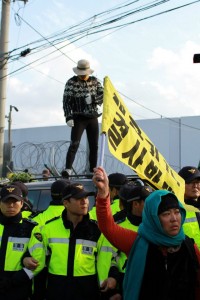 from Save Jeju Now
[Nuclear Resister editors' note:  This is the latest of many ongoing acts of resistance to the construction of a naval base on Jeju Island, Korea.]
On November 28, in response to the news that the Jeju Naval Base project budget for 2013 – 200,900,000,000 Won – was passed completely without any cuts by the National Assembly and the majority holding Saenuri Party, Jeju citizens, villagers and activists rose up in anger with direct action. Three people were arrested.
Two vehicles were parked in front of the gates to the naval base site and people chained themselves underneath. At one gate, Anglican priests held a prayer service and at the other another person climbed on the roof of a van, wrapping himself in barbed wire. People surrounded the vehicle with their bodies, firewood, junk and whatever else they could find as usual. Soon hundreds of police arrived. They surrounded the Anglican prayer service so that they couldn't leave and join the other gate's struggle. Then they moved to the main gate of the construction site.
There police surrounded the people and made their usual "gochak" detention circles to throw the people in, blocking them from blocking the gate. One by one, people were dragged away and thrown in the detention circles. Then the police roughly knocked down the person on top of the van, without regard for his safety. He was arrested. Then they cut the chains off the person under the van and arrested him along with a person who was simply accompanying to check his condition, totaling three arrests. Finally the van was towed away and the cement trucks went in and out. But it took almost an hour and a half.
It was a very heavy struggle which left many villagers and activists in tears. The police, seemingly indifferent, soullessly did their jobs and walked away.
Tomorrow, in response to the lack of budget cuts there will be protests in Seoul.  Several people, including Father Mun Jeong Hyun and Gangjeong Village Mayor Kang, will shave their heads and begin fasting. The budget will now go to the final stage, the Budget and Balance Committee.