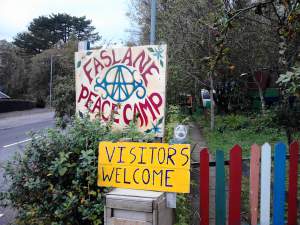 from Faslane Peace Camp
Two campaigners from Faslane Peace Camp were arrested on Wednesday morning, March 19 aboard the Royal Navy submarine HMS Ambush at its berth in Faslane.
Security at the site – home to Britain's Trident nuclear weapons and headquarters of the Royal Navy – was again called into question by the protestors' actions.
Following her release from custody, boarding party member Heather Stewart (29) expressed surprise at the success of the action.  She said, "I am amazed and disturbed by the accessibility of the UK's top defence site. Up to eighty nuclear warheads are often stationed here, along with several nuclear reactors. We thought we could get in, but not that we would be arrested within meters of nuclear materials."
HMS Ambush is one of the new Astute class of hunter-killer submarines. Two of a planned seven Astutes have been completed, with all seven intended to be based alongside the £100 billion Trident replacement at Faslane. The base is currently undertaking a £31 million expansion to accommodate the additional service personnel for these submarines.
"These submarines use the same leaky reactor which has recently been disclosed to have caused problems at Dounreay. Bringing another five to Faslane will double the chances of nuclear accident and increase the amount of nuclear waste on our roads and railways," said Jamie Watson (29) on release from Dumbarton Sheriff Court.
Having been charged with bye-laws offences, malicious mischief, and offences under the Serious Organised Crime and Police Act, the protestors were allowed to leave custody with no trial date set.
Stewart said, "Direct actions such as this are necessary, to reflect the overwhelming public support for scrapping Trident and to show that we won't accept a Trident replacement or new nuclear submarines.
"Since there's nowhere else for them to go, a 'Yes' vote in September will help pile on the pressure for these engines of destruction to be sent to the breaker's yard as part of a programme of unilateral disarmament."
Faslane Peace Camp has been a base for anti-nuclear action for almost 32 years. Consisting of a line of caravans along the A814 opposite the submarine base, the Peace Camp calls all opposed to war, militarism, and weapons of mass destruction to join them.
HM Naval Base Clyde is a number of sites on the Clyde, Gareloch, and Loch Long, in the West of Scotland near Helensburgh. The main sites are Faslane, which hosts the Vanguard submarines which carry Trident nuclear warheads on constant patrols of the Atlantic, and Coulport, which stores undeployed warheads. Nuclear waste from the sites is set to be moved following public consultation on a temporary disposal site this year.
Both the Vanguard and Astute submarines based at Faslane use the same type of reactor as HMS Vulcan, the test reactor at Dounreay. A leak detected at this reactor was not publicly disclosed for two years, despite a tenfold increase in radioactivity in the surrounding area and obvious implications for the UK submarine fleet. HMS Vanguard is now scheduled for refuelling in 2015 at an estimated cost of £120 million, with the remainder of the UK's nuclear submarines likely to follow.