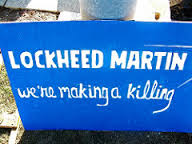 by Bob Smith
Dr. Martin Luther King, Jr. Day, Monday, January 18, at Lockheed Martin in King of Prussia, Pennsylvania was cold, terribly cold. It was one for the Brandywine Peace Community record books. We thought that for anyone who could risk the cold, there needed to be something at the world's chief war profiteer in honor of Dr. King's message of nonviolent action and resistance for justice and peace. So as we have every year since 1977, we stood holding banners and signs for Dr. King and his message. About 20 people were there as the loudspeaker boomed the words of Dr. King. We had decided to cut our memorial with music and more in half.
After 20 minutes of excerpts from Dr. King's sermons and speeches, we did our MLK Day Memorial litany (see below), drawn from his 1964 Nobel Peace Prize acceptance speech. After half a century, the words, both tragic and inspirational, never get old.
Nine people then proceeded to face arrest for civil resistance/disobedience by walking onto and holding signs across the corporation's main driveway entrance. All the signs read 'UNARMED TRUTH' 'UNCONDITIONAL LOVE' (Martin Luther King, Jr.).
"The voices Dr. King believed would have the final word – voices of unarmed truth and unconditional love." (President Barack Obama in his 2016 State of the Union address, just a day before MLK Day). These words of Dr. King came from Obama's mouth just after heralding the more than 10,000 airstrikes he's ordered in Syria.
Those arrested on Martin Luther King Day 2016 at Lockheed Martin: Bernadette Cronin-Geller, Sylvia Metzler, Fr. Patrick Sieber, OSF, and Robert M. Smith, all of Philadelphia; Theresa Camerota and Tom Mullian, both of Wyncote, Pennsylvania; Paul Sheldon of Media; Louise Legun of Blandon, Pennsylvania; and Robert Daniels II, of Freemansburg, Pennsylvania.
For more information, visit www.brandywinepeace.com
Litany of the King Day Memorial
(drawn from Dr. King's Nobel Peace Prize Speech, 1964)
Response/All: MAKE WAR NO MORE. IGNITE PEACE
"…Violence is immoral because it thrives on hatred rather than love…Violence ends up defeating itself. It creates bitterness in the survivors and brutality in the destroyers…. I refuse to accept the view that humanity is so tragically bound to the starless midnight of racism and war that the bright daybreak of peace can never become a reality….
"…I refuse to accept the cynical notion that nation after nation must spiral down a militaristic stairway into the hell of thermonuclear destruction. I believe that unarmed truth and unconditional love will have the final word in reality….
"…I refuse to accept the idea that the "isness" of our present nature makes us morally incapable of reaching up for the eternal "oughtness" that forever confronts us. I refuse to accept the idea that we are mere flotsam and jetsam in a river of life, unable to influence the unfolding events which surround us….
"…I believe that even amid today's mortar bursts and whining bullets, there is still hope for a brighter tomorrow. I believe that wounded justice, lying prostrate on the blood-flowing streets of our nation, can be lifted from this dust of shame to reign supreme among all….
"…I have the audacity to believe that peoples everywhere can have three meals a day for their bodies, education and culture for their minds, and dignity, equality, and freedom for their spirits. I believe that what self-centered people have torn down other-centered can build up and that one day humanity will bow before the altars of God and be crowned triumphant over war and bloodshed, and nonviolent redemptive good will be proclaimed the rule of the land…and I still believe that We Shall Overcome….