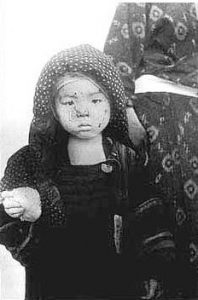 Stand & Demand: Abolish Nuclear Weapons, Resist Lockheed Martin
On Saturday, August 5, in anticipation of the anniversaries of the bombings of Hiroshima and Nagasaki (August 6-9, 1945), people were back in front of Lockheed Martin, the world's largest war profiteer and the U.S. chief nuclear weapons contractor. Members of the Brandywine Peace Community had a "meet-up" on the large grassy area in front of Lockheed Martin.
Colorful banners and signs surrounded the extremely well-traveled corner. A few bold banners – Hiroshima! We Shall Not Repeat the Sin – hung from the wall leading up to Lockheed Martin's main entrance.
Blessed with a human "presence" of community, Tom Mullian and Rev. David Brown performed, combining Tom's original and stellar material from his recent CD,"Out of Babylon," with Dave's peace and traditional folks songs.
As our bell of peace (it's been with us for decades) tolled, all those gathered walked to the main driveway entrance. Four folks then stood across and blocked the entrance, holding the classic picture of the Hiroshima child.
Those arrested and cited for disorderly conduct: Beth Centz and Fr. Patrick Sieber, of Philadelphia; Tom Mullian, of Wyncote and Paul Sheldon of Media.
A Nagasaki Day Plea for Peace: Abolish Nuclear Weapons
The U.S. government did the "unspeakable," using the first of two atomic bombs during war. On August 6, 72 years ago, the U.S. bombed the city of Hiroshima, Japan, killing an estimated 135,000 people in the initial blast and fire. Three days later, the U.S. used a plutonium based bomb to vaporize 64,000 residents of the primarily Catholic city of Nagasaki.
Ground Zero for the Nagasaki bombing was Saint Mary's Urakami Cathedral, the largest Christian congregation in all of Asia.
In the months and years following the bombings, people have died from the effects of radiation poisoning and other injuries and continued to die.
Never has any of the thirteen post-World War II presidential administrations made a representational apology for the atomic bombings of Hiroshima and Nagasaki, nor expressed any regret for ushering in the nuclear age. President Barack Obama became the first sitting president to so much as visit Hiroshima and to mourn publicly with survivors of the bombing.
The U.S. possesses nearly 7,000 nuclear weapons, many of which are on hair-trigger alert, and proposes to spend an estimated $1 trillion over the next 30 years to modernize it's existing nuclear arsenal.
We call on the U.S., the only country to ever use nuclear weapons, to endorse this treaty and to lead the way to total worldwide nuclear disarmament.