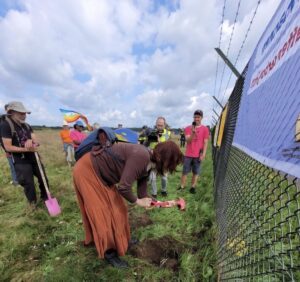 Digging For Life:
For an End to Military C02 Emissions & the Abolition of Nuclear Weapons
Today, August 9, the 78th anniversary of the atomic bombing of Nagasaki, 16 nuclear abolitionists and climate activists were arrested when they started to dig a tunnel under the fence of Volkel Air Base in the Netherlands. The international group of Dutch, German, Italian and American activists meant to occupy the runway and again call to abolish nuclear weapons and CO2 emissions by the armed forces. U.S. nuclear weapons are stockpiled at Volkel as part of NATO's "nuclear sharing" practice that continues in contradiction of the 1970 Nuclear Non-proliferation Treaty.
"Again" because yesterday ten participants of a Peace Camp at Volkel blocked the runway after climbing over the fence, and were then arrested. Today the intent of a "pink shovel action" was to create an entrance that allows everyone, including those with disabilities, to engage in the life-affirming action. Sigrid Hossbach came out of her wheelchair to take up a pink shovel and start digging.
More than 60 people are participating in the week-long peace and climate action camp outside the air base. Ellen Grady, one of the Americans arrested today, told reporters, "I am very sad that we are spending so much money on these weapons when the world is on fire."
Police detained the activists one by one as they each picked up a pink shovel and began to dig. After questioning at the local police station, the military police released most of the group but took the four Americans to Venlo for further investigation. They were later released.
Ellen Grady, Jackie Allen-Doucot and Theo Kayser, who were arrested at the base two days in a row, had their passports stamped and are banned from entering the European Union for one year. They, along with Brian Terrell – the four Americans arrested – have 28 days to leave.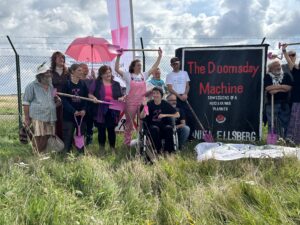 Those arrested include:
Turi Vaccaro (Italy)
Frits ter Kuile (Netherlands)
Margriet Bos (Netherlands)
Nikki Apeldoorn (Netherlands)
Dietrich Gerstner (Germany)
Jasmijn Dijkman (Netherlands)
Theo Koster (Netherlands)
Sigrid Hossbach (Germany)
Hops Hossbach (Germany)
Judith Samson (Germany)
Trees Lammers (Netherlands)
Jeffrey Quarsie (Netherlands)
Theo Kayser (U.S.)
Ellen Grady (U.S.)
Brian Terrell (U.S.)
Jackie Allen-Doucot (U.S.)