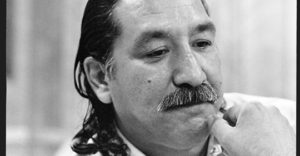 https://medium.com/…/the-covid-19-crisis-underscores-the-ne…
March 26, 2020
by Zeke Johnson, Senior Director of Programs, Amnesty International USA
Amnesty International, an independent human rights organization, has long called for clemency and release for Native American activist Leonard Peltier, due to fair trial concerns, the exhaustion of his appeals and his having served more than 40 years in prison, some of which was spent in solitary confinement, for a crime he has always claimed he did not commit. The threat of COVID-19 underscores the urgency of this call, as Peltier is 75 years old and has serious health concerns. He suffers from diabetes, among a myriad of other health issues, and in January 2016 was diagnosed with an abdominal aortic aneurysm, which can be fatal if it ruptures.
Amnesty International is not alone in calling for Peltier's release. James H. Reynolds, a former US Attorney and the supervisor of the attorneys who prosecuted Peltier at trial and handled his appeal, has publicly called for clemency and release. So too have Judge Gerald W. Heaney, the former federal judge of the Eighth Circuit who presided over two of Peltier's appeals; Dave Archambault II, the former Chairman of the Standing Rock Sioux Tribe; and Seven Noble Peace Prize Laureates, including Shirin Ebadi and Archbishop Desmond Tutu. Over 110,000 people signed a petition calling for his release.
Why have so many people called for clemency and release of Peltier? There are very serious concerns about the fairness of the proceedings leading to his conviction, and possible FBI tampering in the case.
Peltier was convicted and serving two life sentences for killing two FBI agents — Ronald Williams and Jack Coler — during a confrontation between them and members of the American Indian Movement on the Pine Ridge Indian Reservation in 1975. Peltier has always denied killing the agents and a key alleged eyewitness retracted her testimony, later saying it was the result of months of threats and harassment from FBI agents. She was not allowed to testify during his trial. The FBI eventually admitted that it knew that her affidavits were false. Later, documents containing evidence which might have assisted Peltier's case, but which had been withheld by the prosecution at trial, came to light.
The U.S. Parole Commission has held a number of parole hearings on Peltier's case. However, it has denied parole on the grounds that he did not accept criminal responsibility for the murders of the two FBI agents. This is despite the fact that, after one such hearing, the Commission acknowledged that, "the prosecution has conceded the lack of any direct evidence that you personally participated in the executions of two FBI agents". He will not be eligible for parole again until 2024, when he will be 79.
The families of Special Agents Coler and Williams suffered a tragedy and their deaths cannot be minimized. However, given the deep flaws of the legal process surrounding Peltier's over 40 years of incarceration, his ongoing imprisonment does not constitute justice for Agents Coler and Williams.
The current threat of COVID-19 should spur President Trump to grant Peltier clemency and release him. Of course, Peltier is not the only person in prison in the U.S. at risk from COVID-19. The U.S. has the largest prison population in the world and is in dire need of comprehensive criminal justice reform based on human rights. As an immediate step, the U.S. should create and implement an action plan for protecting people in detention from COVID-19. The provision of health care for prisoners is a state responsibility, and prisoners should have the same standards of health care that are available in the community, including when it comes to testing, prevention and treatment of COVID-19.
As part of such an action plan, Amnesty International is urging U.S. authorities to urgently consider releasing some people who are currently in detention or prison, especially those who are more at risk from the virus. Those with underlying medical conditions and the elderly should be immediately considered for alternatives to detention if they do not pose a threat to themselves or society, and there should be a presumption of release for people charged with a crime and awaiting trial. The government should also consider amending sentencing guidelines to recommend non-custodial measures for people who have been convicted of lesser criminal offenses. Furthermore, people held in immigration detention should be released. People held without charge at Guantanamo should either be charged and fairly tried or released to countries that will respect their human rights.
Decreasing the prison population and the number of people in detention centers is a crucial means of slowing the spread of COVID-19 and keeping people safe.
Take Action:
· Call the White House comment line at (202) 456–6213 and urge President Trump to grant clemency to Leonard Peltier and release him. You can also email or write a letter. The contact info can be found at whitehouse.gov
· Contact the Federal Bureau of Prisons and urge them to transfer Leonard Peltier to a facility closer to his family: https://www.amnestyusa.org/wp-content/uploads/2019/02/uaa01619-1.pdf