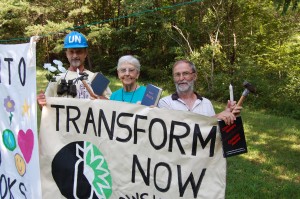 See here for August 3 court updates.
Before dawn on July 28, 2012, Michael R. Walli (63), Megan Rice shcj (82), and Greg Boertje-Obed (57) carried out a disarmament action at the Oak Ridge Y-12 nuclear facility.
Calling themselves Transform Now Plowshares, they hammered on the cornerstone of the newly built Highly-Enriched Uranium Manufacturing Facility (HEUMF), splashed human blood and left four spray painted tags on the recent construction which read: Woe to the empire of blood; The fruit of justice is peace; Work for peace not for war; and Plowshares please Isaiah.
Under the cover of darkness they intermittently passed beyond four fences in a walk for over two hours through the fatal force zone. "We feel it was a miracle; we were led directly to where we wanted to go" said Greg.
» Read more…