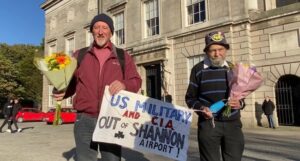 From Ed Horgan, Ireland Veterans for Peace
Trial of Peace Activists Colm Roddy and Dave Donnellan
At Dublin Circuit Court on October 23, a jury of twelve Irish citizens acquitted peace activists Colm Roddy and Dave Donnellan of the charge of alleged criminal damage at Shannon Airport over four and a half years ago. The trial by jury, presided over by Judge Karen O'Connor, found both defendants not guilty.
They entered Shannon Airport on the morning of 25th May 2016 to search and investigate U.S. military aircraft that were being refuelled on their way to and from U.S. wars of aggression.
There were two U.S. Air Force aircraft at Shannon at the time of the incident. One was a U.S. air force Learjet C-21A aircraft registration number 84-0072 being guarded by an Irish army patrol, and the other was a U.S. air force Boeing C-32B aircraft registration number 02-4452 used by the United States special forces, and being guarded by a Garda patrol car.
» Read more…