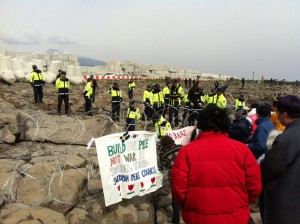 from Bruce Gagnon, Global Network Against Weapons & Nuclear Power in Space
Ten international activists and six Korean activists were arrested today, February 26,  after crawling under the razor wire at the Navy base on Jeju Island. Global Network members were among those arrested, including Bruce Gagnon, Mary Beth Sullivan, Dave Webb, Natasha Mayers, Agneta Norberg, Gun-Brit Makitalo, Angie Zelter and Dennis Apel.
More than 70 activists used kayaks to get onto the rocky coast where they held a Catholic mass, sang songs, ate food, made speeches, and then moved under the the wire fence to enter the base destruction area.
» Read more…