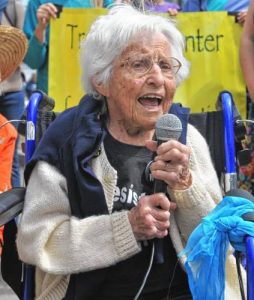 100 Years of love, persistence, resistance…Frances Crowe, Presente! (March 15, 1919 – August 27, 2019) With gratitude for her life, which has been an example and an inspiration to so many of us near and far, for her activism for a peaceful and nuclear-free future, and so much more. Rest in power – all of us who you have protested with, supported, mentored and encouraged will carry on!
xxx
Democracy Now Remembers Frances Crowe –
click here.
xxx
Frances Crowe, Peace Activist and War Resister, Dies at 100
The bombing of Hiroshima led her to devote her life to antiwar protests. She was arrested often, but when asked how often, she said, "Not enough."
In 1945, when she was at home in New Orleans ironing a place mat, Frances Crowe was alarmed to hear on the radio that in its efforts to end World War II, the United States had dropped an atomic bomb on the Japanese city of Hiroshima. The bomb instantly vaporized tens of thousands of people and ultimately killed as many as 135,000.
» Read more…