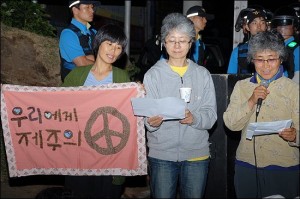 Dr. Song Kang-Ho sent a message from Jeju Prison to share with people gathered at a candlelight vigil on June 28 in front of the construction gate at a naval base under construction on Jeju Island.
"The fire is brighter in the darkness. The Gangjeong village is a candle light of the dark period when the ghost of violence dominates […] The more increasing candles will eventually collapse the naval base that push the village, Jeju and our country into anxieties and conflicts. Even though a candle is small, the power of fire is great. We all have such great kindling in our hearts."
Ms. Cho Jung-Rae, Dr. Song's wife, was present at the event.
» Read more…