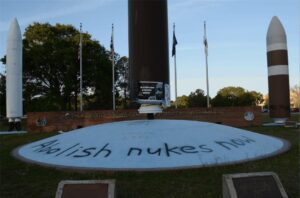 from the Kings Bay Plowshares
On April 4, 2018, the Kings Bay Plowshares Seven trespassed onto a U.S. Naval base in Southern Georgia, bearing a message from the great Dr. King: "The ultimate logic of racism is genocide." There they performed a symbolic act of nuclear disarmament at the home port of the most deadly, omnicidal weapons of mass destruction ever created in human history, the Trident submarine. Four years later, all have served lengthy prison terms, while the exact kind of geopolitical scenario threatening nuclear annihilation which the Seven were trying to warn the world about is now becoming a reality with the war in Ukraine.
First, the Kings Bay Plowshares would like to express our deep gratitude for the wonderful prayers and support we have received these last four years from all of you and our legal team. We are especially grateful for the Brunswick, Georgia community of friends that made our time in their city a love-filled experience.