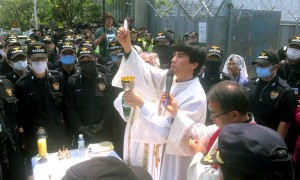 Facebook postings from Sung-Hee Choi and Paco Booyah, May 3-13 – more information at savejejunow.org
[May 3] "Policemen, if you move this altar, 1 billion Catholic followers all over the world will watch over you." The young Father from Jeju finished ALL the orders of the Catholic mass despite the repeated remarks by Koo Seul-Hwan, security director, who was embarrassed but continued to threaten him that it is an obstruction of business.
Kim Mi-Lyang, a woman villager, held up a sign that reads, "Return back the Gureombi Rock to Kim Mi-Lyang, daughter of Gangjeong!" After the  mass, we could observe an elderly follower teared and hugged Fr. Mun Jeong-Hyeon. There were lots of woman followers. It was really moving that they danced the Gangjoeng Addictive dance together with the Peacekeepers in Gangjeong.
» Read more…