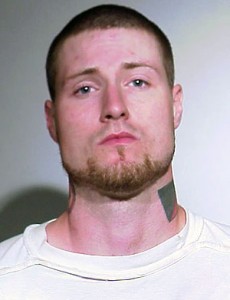 Editors' Note: Mark Neiweem spoke with a supporter last night (8/27) and, contrary to some reports, he is receiving mail while in solitary. Letters should be sent to him at the address listed in Inside & Out.
by Occupy Chicago Press Relations on Monday, August 27, 2012 at 4:51 a.m.
CHICAGO — On Thursday morning, August 23, attorneys for Mark Neiweem filed an emergency motion to preserve evidence related to a beating Neiweem sustained at the hands of Cook County sheriffs earlier in the week that sent him to the Cook County  Hospital.
Neiweem is among a group of arrestees colloquially referred to as the NATO 5 – all of whom were arrested in the days preceding the NATO summit on "evidence" that defense attorneys contend is based on deeply problematic evidence provided by undercover police agents who aggressively made provocative statements to persons they were targeting for arrest.
On August 23, Neiweem appeared for a hearing in court limping and with a large bandage on his head.
Occupy Chicago and other supporters are organizing a phone-in campaign to Cook County Sheriff Tom Dart at (312)603-6444 on Neiweem's behalf. Callers are encouraged to ask what happened to Mark Neiweem, why he was beaten so severely that he was admitted to Cook County hospital overnight, and to demand Mark be removed from the hole immediately.
Neiweem had reportedly been participating in a hunger strike when he was attacked by guards in Cook County Jail's Division 10, one of the jail's highest security units. Supporters have been denied visitation rights with Neiweem and told that he has been confined to the "hole" – a form of solitary confinement typically used to punish inmates – for an unspecified amount of time in the wake of the incident.
Supporters have raised the alarm about charges against the NATO 5 since Cook County State's Attorney Anita Alvarez and the Chicago Police Department announced and heavily publicized the arrests in the days running up to the NATO meeting in Chicago this May. That concern includes criticism of Alvarez and the CPD for targeting political activists arrested for NATO-related protests – including what they contend are bogus prosecutions under state terrorism statutes – while she continues to refuse to bring charges against law enforcement officers in the killings of near west side resident Rekia Boyd [ http://bit.ly/GN6SIX ] and 15-year-old Calumet City resident Stephon Watts [ http://bit.ly/wEcNDL ] earlier this year.
Mark Neiweem's next court date is set for September 25 – when defense attorneys expect to receive more details about the prosecution's purported "evidence" in the case, including the involvement of at least one additional police informant.
Neiweem is being represented by Steven Saltzman and Matthew Dodge of the National  Lawyers Guild's Chicago chapter.
For more information about the NATO 5, go to nato5.occupychi.org.