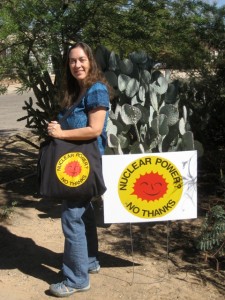 TOTE BAGS AND YARD SIGNS
With the classic smiling sun "Nuclear Power? No Thanks" logo in yellow, red and black, licensed from www.smilingsun.org.
New!  The colors really stand out beautifully on the black twill bags. Perfect for a day at the beach or a trip to the store (or as a gift for your favorite anti-nuclear activist!)
These are fair trade bags made by the DouglaPrieta Works women's sewing cooperative, part of a grassroots self-help project in Agua Prieta, Sonora, Mexico, just across the border from Douglas, Arizona (www.douglaprietaworks.org).
Bold and colorful, lightweight and rigid, the 18"x24" corrugated white plastic signs are great for use at vigils, demonstrations and public hearings, and make perfect yard signs with a wire stand (included).
The signs and bags are screen printed at the Gloo Factory, a progressive, community-centered union print shop here in Tucson (www.gloofactoryink.com). When you buy one (or more!), you're supporting not only the Nuclear Resister, but also the Gloo Factory and, with purchase of a tote bag, DouglaPrieta Works!
$20 each, your choice
(includes shipping; please add $5 for addresses outside USA)
You can order your bags and signs by contacting us via the blog or emailing us at nukeresister@igc.org and paying via paypal on the Nuclear Resister blog, or sending a note in the mail with your order (Nuclear Resister, POB 43383, Tucson, AZ 85733), along with a check or money order made payable to the Nuclear Resister.