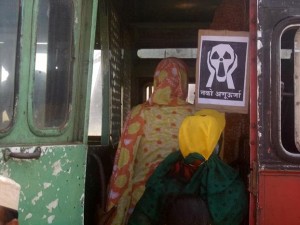 [From the Nuclear Resister editors:  Anti-nuclear activists in India report that five thousand people protested the Jaitapur nuclear power project on January 2nd; 2,600 were arrested and released that evening.]
from World Nuclear News
Mass public unease at nuclear power development has emerged at Jaitapaur. Thousands of protestors were held by police as they attempted to surround the site of six planned reactors.
Groups representing villagers in the vicinity of the development in western Maharastra state said they were angered by Nuclear Power Corporation of India Ltd. (NPCIL's) recent actions to move forward with tenders towards the future power plant's facilities. They said tenders for a health clinic, fire station and security building showed the national government had not given their concerns sufficient attention and called for the project to be cancelled outright.
The march from surrounding towns to the plant on January 2 attracted around 2000 people, according to a Business Standard report. Leaders had intended to surround the 1000 hectare site and hand a letter to site managers, but the crowd was stopped and held by police around two kilometres from its destination.
The protest column moves through villages close to Jaitapur (Image: Altaf Bhatkar)
Jaitapur is slated to host up to six Areva EPR units under a deal struck in December 2010 by India and France. In April 2011 a protest against the plant resulted in the death of one man, 30-year-old fisherman Tavrez Sejkar, during a battle at a police station. Today, protest organisers vowed to prevent contractors from entering the site in future, using a tactic that was successful in delaying the commissioning of the Kudankulam nuclear power plant, which features two Gidropress-designed VVER-1000 units. The first of these is due to start up within weeks after central government intervention in March 2012, but a mass protest six months later saw a 44-year-old fisherman killed.
Speaking today at the 100th Indian Science Congress in Kolkata, prime minister Manmohan Singh called for "younger generations [to] adopt a science-based value system in order to benefit from what science can offer and to make up for lost time."
"Complex issues, be they genetically modified food or nuclear energy or exploration of outer space, cannot be settled by faith, emotion and fear, but by structured debate analysis and enlightenment," he said. Singh has previously blamed foreign anti-nuclear groups for agitating people close to nuclear developments.
In response to the rising concern and civil action near forthcoming power plants, NPCIL has stepped up its public engagement. In November 2012 it took six local groups on tours of the Kudankulam plant, giving 162 people first hand experience. Public outreach efforts at events such as cricket matches have also reached hundreds of local people.
In line with the scientific management of India's nuclear program, official messages for the public have emphasised the advantages of nuclear power in terms of economic benefits, carbon dioxide reduction, reliability, statistical safety as well as simply the provision of power on a large scale. It's not yet clear whether the strategy will be effective in penetrating some of the basic but unfounded fears for rural livelihoods and childrens' health that officials accuse anti-nuclear groups of perpetuating.
Researched and written
by World Nuclear News