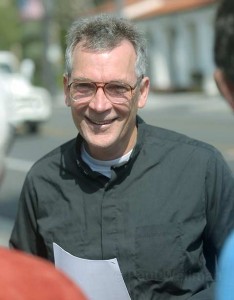 Credit for time served; Also, powerfully written legal brief filed with the court by attorney Roger Hunko
Fr. Steve Kelly, SJ was given a 60 day sentence on March 20 by Judge Settle for violating conditions of supervised release put in place at the end of his prison sentence for the Disarm Now Plowshares action. It's expected he will be released in 9 days, since he's been held in custody since a Good Friday arrest at Lockheed Martin in California, and gets credit for most of the time served. Then his Disarm Now Plowshares file will be closed. [later note: Kelly is scheduled for release on May 24.]
Attorney Blake Kremer, part of the legal team for the Disarm Now Plowshares, reports that there were eloquent statements in court made by Steve and supporters. Kremer also forwarded this powerful legal brief written and filed with the court for today's hearing by Steve's standby counsel for the Plowshares trial, Roger Hunko (also available here):
Case 3:10-cr-05586-BHS Document 258 Filed 05/18/13
The Honorable Benjamin H. Settle
UNITED STATES DISTRICT COURT WESTERN DISTRICT OF WASHINGTON AT TACOMA
UNITED STATES OF AMERICA Plaintiff vs. STEVEN KELLY, Defendant
NO. 10 5586 BHS
DEFENDANT'S DISPOSITION MEMORANDA
__________________________________________
Father Steve Kelly comes before this Court on a violation of his Supervised Release.  The violation is a single count of his failure to report as directed in the original sentence. At the time of his sentence he informed the court that because of his conscience he could not comply with the supervised release provision of his sentence. As a result he did not report.
The sentence of Father Kelly did not come from a desire to commit evil, but to prevent evil. He and his colleagues wanted to peacefully protest our government's proliferation and maintenance of the World's largest nuclear weapon arsenal and the most advanced method of deployment. All in violation of international treaties and law. To that end Father Kelly and four comrades in peace cut through the fence at Bangor, Washington. The five committed participants traversed the distance to the area where the nuclear warheads for the missiles were stored. Supposedly Bangor is one of the most secure facilities in the world for storing such weapons of mass destruction. They were able to cut through two more fences without being detected and managed to put up a Plow Shares banner condemning the proliferation of nuclear weapons within feet of the igloos where the warheads were suspected to be stored. It was only after this prolonged journey that the Marines designated to secure the weapons arrived. Even though two of the committed peace activist were octogenarians and the rest were either in or close to their sixties. One of the five was taking nitroglycerin to prevent a heart attack. They were arrested, bags put over there heads and months later charged.
The five represented themselves with stand by counsel. I was standby counsel for Father Kelly. A task I am grateful to the Court for giving me the opportunity to meet this man and to participate in an attempt to assist him in his fight against nuclear weapons.
Father Kelly never denied what he had done. He was arrested while attempting to finish a prayer next to the weapons of mass destruction. He did not deny his purpose. He did not deny why he did what he did. His defense was that he was doing what was morally required to put his government and the general population on notice that the possession and deployment of such non discriminate weapons was a violation of international law and also the higher law of nature. He was not allowed to present that defense. He, of course, was convicted which he anticipated. At sentencing he informed the Court that he could not submit to the supervised release conditions because he felt he was doing the morally responsible acts.
He was arrested for failure to report on March 29, 2013. He has been held on a Federal detainer since that time.
At his first appearance he attempted to admit the violation, but Magistrate Creatura, deferred a finding till Your Honor could hear the matter. Father Kelly does not deny the allegation. He only avers that his conscience will not allow him to submit.
I was appointed to represent him on his supervised release violation.
I have been practicing law for the last thirty four years. Almost exclusively in the field of criminal defense. I have never represented a man like Father Kelly, wholly devoted in trying to prevent an evil from hurting his fellow man, whether American or anyone else. A man totally committed to peaceful resistance. A man who is willing to risk his life to show others the right path.
In deciding what I could do to represent a totally conscientious person in a violation where he fully admitted both at sentencing and by his actions afterward that he would not submit to supervised release, I was at a loss. I then thought of going back to philosophers, intellects and others to see what defines a conscientious person.
I came up with the following:
1. Never do anything against conscience, even if the state demands it. Albert Einstien
2. Justice is a temporary thing that must at last come to an end; but the conscience is eternal and will never die. Martin Luther
3. The person that loses their conscience has nothing left worth keeping. Izaak Walton
4. Laws control the lesser man. Right conduct controls the greater one. Justice Louis D. Brandeis
5. Pity the poor, wretched, timid soul, too faint hearted to resist his oppressors. He sings the songs of the damned, 'I cannot resist, I have too much to lose, they might take my property or confiscate my earnings, what would my family do, how would they survive?' He hides behind pretended family responsibility, failing to see that the most glorious legacy that we can bequeath to our posterity is liberty! Old Chinese Proverb
6. Non-violent resistance implies the very opposite of weakness. Defiance combined with non-retaliatory acceptance of repression from one's opponents is active, not passive. It requires strength, and there is nothing automatic or intuitive about the resoluteness
required for using non-violent methods in political struggle and the quest for Truth. W. Vaughn Ellsworth
7. A 'No' uttered from the deepest conviction is better than a 'Yes' merely uttered to please, or worse, to avoid trouble. Mahatma Mohandas K. Gandhi
8. Any attempt to replace a personal conscience by a collective conscience does violence to the individual and is the first step toward totalitarianism. Mahatma Mohandas K Gandhi
9. What is hateful to you, do not do to your fellow; that is the whole Law: all the rest is interpretation. Hermann Hesse
10. In no sense do I advocate evading or defying the law … That would lead to anarchy. An individual who breaks a law that his conscience tells him is unjust, and who willingly accepts the penalty of imprisonment in order to arouse the conscience of the community over its injustice, is in reality expressing the highest respect for law. Martin Luther King
11. The means by which we live have outdistanced the ends for which we live. Our scientific power has outrun our spiritual power. We have guided missiles and misguided men. Martin Luther King
12. Live your life that the fear of death can never enter your heart. Trouble no one about his religion. Respect others in their views and demand that they respect yours. Love your life, perfect your life, beautify all things in your life. Seek to make your life long and of service to your people. Prepare a noble death song for the day when you go over the great divide. Always give a word or sign of salute when meeting or passing a friend, or even a stranger, if in a lonely place. Show respect to all people, but grovel to none. When you rise in the morning, give thanks for the light, for your life, for your  strength. Give thanks for your food and for the joy of living. If you see no reason to give thanks, the fault lies in yourself. Abuse no one and no thing, for abuse turns the wise ones to fools and robs the spirit of its vision. When your time comes to die, be not like those whose hearts are filled with fear of death, so that when their time comes they weep and pray for a little more time to live their lives over again in a different way. Sing your death song, and die like a hero . Tecumseh
I then compared these words to what Robert Oppenheimer said on his successful test of the first atom bomb. "I am Vishnu destroyer of worlds."
But of course the Court must decide what to do with Father Kelly. In doing so it must consider U.S.C. 18 § 3553. The most appropriate section in this case being Section 6. The need to avoid unwarranted sentence disparities among defendants with similar records who have been found guilty of similar conduct.
Under this cause number the Court has already sentenced Susan Crane on a similar violation. The Court ordered her to do 60 days in custody and terminated her supervised release. A similar result should be ordered in this case.
Dated this 18th day of May, 2013.
/s/ Roger A. Hunko
Attorney for Father Steven Kelly