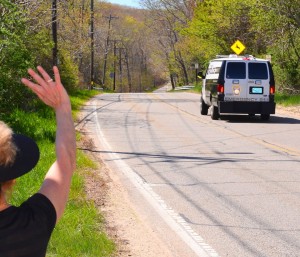 by Christine Legere, from the Cape Cod Times
May 12, 2014
PLYMOUTH – Four members of a Cape-based activist group were arrested Sunday, May 11 for trespassing onto the Pilgrim Nuclear Power Station property to plant flowers.
Diane Turco, a Harwich resident and founder of the Cape Downwinders, and group members Sarah Thacher and Susan Carpenter of Dennis, and Mary Conathan of Chatham, were arraigned Monday in Plymouth District Court on charges of trespassing.
"The judge commented that this seems to be an annual event," Turco said following the arraignment. The next court date was set for July 31 for a pre-trial conference.
Turco, Thacher and Carpenter, along with nine other protesters, were found guilty by a Plymouth District Court judge in March for trespassing on the power plant property in the spring of 2013.
Protesters began Sunday's Mothers Day rally at a park in Manomet, then marched down Rocky Hill Road to the nuclear power station.
"We had brought plants as a symbol of beauty, and four of us walked onto the property to deliver the flowers," Turco said. "Pilgrim's reactor is an aging factory of death and it needs to be shut down for all children, now and in the future."