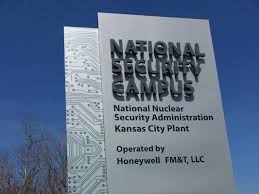 Four years after a series of civil resistance arrests and jailings began to protest groundbreaking for construction of the United States' first entirely new nuclear weapons factory in decades, three people were arrested on August 22 while speaking out against the official dedication of the new Kansas City Plant. The new, benign-sounding National Security Campus will help develop and fabricate the unique non-nuclear components for a new generation of U.S. nuclear weapons intended to threaten humanity through the end of the century.
While politicos and war industrialists assembled to bless the massive, tastefully landscaped industrial facility, PeaceWorks-KC and Physicians for Social Responsibility-KC sponsored a mock "Dead-ication" funeral procession. Fifty-five people joined in, planting sunflower seeds and carrying a faux coffin and signs down the long sidewalk past manicured lawns and past a new pond, under the watchful eye of security guards for Honeywell, the prime contractor.
Jim Hannah, Henry Stoever and Mark Bartholomew stepped across the property line at the entry to the facility's long driveway. When they refused to leave, they were arrested. Kansas City police took the men into custody. Hannah and Stoever were released on bond a few hours later, while Bartholomew was jailed for about 20 hours..
xxx
VIDEOS:
Of action – https://www.youtube.com/watch?v=rUJCAnzX590
Henry Stoever speaking before action – https://www.youtube.com/watch?v=RikNcQcq5tU
Jim Hannah speaking before action – https://www.youtube.com/watch?v=ltIvPywQsRc
Mark Bartholomew speaking before action – https://www.youtube.com/watch?v=Qjem_1AqEzI
Maurice Copeland speaking before action – https://www.youtube.com/watch?v=C7axoGAhHvA
xxx
from Henry Stoever
August 22, 2014
Re:       At Kansas City Plant Dedication
14510 Botts Road, KCMO 64145
Friday, August 22, 2014
Friends and Loved Ones,
OPENING WELCOME:
(A La Robin Williams—I am trying to channel Robin here):
GOOD MORNING, KANSAS CITY NUCLEAR WEAPONS PARTS PLANT!!!
NUCLEAR –DJ Kronnaur, this is not the DMZ or Vietnam, this is the real SUPER FIREWORKS STUFF!!! Not psychedelic Mushroom Clouds, BUT HOLY JESUS, the INFERNO KIND, LIKE KISS YOUR BUTT GOOD-BYE.
NUCLEAR WEAPONS – Simply "Hands Up, Don't Shoot" chants won't be enough,
Didn't your Mother ever tell you not to point a weapon at anyone?
Like HAIR-TRIGGER, ON-ALERT, READY-TO-FIRE-STATUS WEAPONS
OF MASS DESTRUCTION.
Where are Priest & 337, who wrote the rap, SELF-DESTRUCTION, WE MAKE WEAPONS OF MASS DESTRUCTION? (Robin Williams, you have loved their piece).
NUCLEAR WEAPONS PARTS – Are we not all Part of this Dirty, Rotten System?
BUT, WE are Doing our PART to take RESPONSIBILITY FOR THESE WMDs.
PART of me wants to cry, "DON'T YOU SEE WHAT YOU ARE DOING?"
NUCLEAR WEAPONS PARTS PLANT – (cup hand to look at seeds and plant)
WHEAT AND SOYBEANS WERE THE PLANTS ON THIS VERY GOOD
EARTH. But Deceit and Trickery allowed some to change this GARDEN OF
EDEN, to call it BLIGHTED, and make this into a PLANT FOR WEAPONS OF MASS DESTRUCTION.
GOOD GOD, DRIVE OUT THE MONEY CHANGERS AND MAKERS OF
WEAPONS OF MASS DESTRUCTION, WE IMPLORE YOU.
SERIOUSLY NOW:
I bow to All of you Truth-seekers, who know the true end-result of these weapons of mass destruction, constructed, procured and assembled here, which is DEATH;
I honor All of you Realists, who are able to know the end-reality in the use of these products here is genocide, war crimes and irreparable harm to all inhabitants;
I am thankful to All of you Prophets, not P-R-O-F-I-T-S, but Prophets who of Old gave us the choice, "Choose Life or Choose Death;"
I bow to All of you who Refuse to be Silent, in the face of an Evil greater than the Holocaust;
I am grateful to All of you Concerned about the Fate of this Earth, for we must take action, give witness, and give hope to our children and grandchildren, so that we have not lived in vain;
I thank All of you who Choose to Stand on the Side of LOVE, for War Is Never the Answer, violence and destruction have begotten more of the same;
I bow to All of you who Care for and Act for the least of our brothers and sisters, for we know that President Eisenhower's words that all of these armaments are a theft from those who are in greatest need is the Truth;
I bow to All of you who Feel Compelled by Faith, by Hope, by Morality, by Ethics, by Ecology to say that we must Reverse and Abolish these weapons of mass destruction.
Today, this is a Solemn Occasion, a totally non-violent, peaceful occasion, one conducted in utter Sincerity and Love.
WE WITNESS IN PEACE AND LOVE!!!
Henry M. Stoever
xxx
Lu Mountenay, Blessing of the Earth, part of "DEADication to Death" ceremony 8/22/14
I'm sure you've heard it pondered many times by past presidents, patriots, and poets alike—"Where are all the weapons of mass destruction?"
We know where they are … we know where their parts are born.
We stand on the guilty ground, this earth, did not choose to birth these weapons. It would rather grow soybeans.
So we could ask, "Where have all the soybeans gone?" Gone to weapons, every one!
Or this earth might want to grow sunflowers—symbols of a nuclear-free world.
Oh, when will we ever learn?
I invite you to bow or kneel and touch and bless this earth, this grass, one last time before it is dedicated to death—before it is contaminated for life … and in perpetuity.
(people kneel and bow)
Creator Spirit, bless this earth. Forgive us for what will happen here. We know it is not your will. Amen.
We did all we could to stop this course of destruction, and we will continue our work—because Peace Works! (people repeated, "Peace Works!)
Greed has won … for now. The Temple of Doom is erected. They're over there right now glorifying this huge facility. They're cutting ribbons, and as they do, they're cutting our lifeline to a healthier earth. It promises threats and bullying politics, at best … suffering and death at worst. Today, we can make one more small attempt toward healing—the healing of sunflowers, and our prayers and protests that we plant with them. The seeds are small, but remember the mighty mustard seed. We have faith in our vision: A healthy world of justice and peace, without war and these weapons. We will not be silent; we will not be complicit.
Repeat after me: Ashes to ashes, death to death, toxins to toxins.
May the earth rest in peace. Amen.
Someday, the sunflowers will bloom at the Temple of Doom.
(Soon, the people scattered sunflower seeds on the ground.)