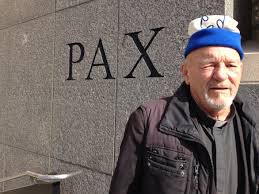 from Jane Stoever
On August 9, at about 7 a.m., Fr. Carl Kabat splashed red paint on a National Security Campus sign at the new Kansas City nuclear weapons plant.
"The deed is done," Kabat told lawyer Henry Stoever in a call at 7:19 a.m. "I came to the back gate—there was a car (a guard's car) at the main gate. Two guards are coming." Kabat said something about splashing paint on a sign and then hung up, reported Stoever. "He sounded happy," added Stoever.
Friends said Kabat, 81, had taken with him a briefcase of baby bottles filled with red paint and planned to "slosh" the paint on a sign at the National Security Campus, home to the new plant in Kansas City, Missouri for making and procuring non-nuclear parts for nuclear weapons.
On July 4, 2014, Kabat had "sloshed" red paint from baby bottles on the huge sign at the main entrance to the National Security Campus. His action this August 9, marking the 70th anniversary of the dropping of the atomic bomb on Nagasaki, follows his civil resistance work since the first Plowshares action in 1980 against nuclear weapons. It also follows Kabat's actions in July in the past four years on the property of the new plant. The facility, which the federal government identifies as costing $900 million a year to operate, makes or orders 85 percent of the non-nuclear parts for the WMDs, including fuses, wires, radar, security devices, containers for tritium, and the bomb trigger mechanisms.
It was expected that Kabat would be detained by the Kansas City, Missouri Police Department and released within a day or so. Updates will be posted here.