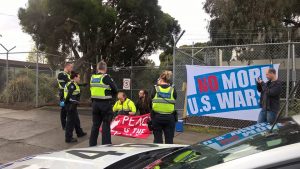 by Greg Rolles
For the last four years I have been doing peace activism. In 2003, I had been in the Australian Army. Australia's murderous support of the U.S. invasion of Iraq saw me leave and seek a life elsewhere. After several years as a high school teacher, I left to live in a Catholic Worker House in another State of Australia (our States are really big). I learnt more about colonialism, capitalism and the opportunity to build friendship and community in the midst of it all. In that space, I started protesting, and then blockading what I saw as the preparations for murder through the military machine. The first arrest was scary, but I felt necessary to make a statement at a "Family Open Day" in one of Australia's largest military bases.
Since then I have tried to organise major events and disruptions, often just going to large events that others have organised. In Australia, the population is low compared to the U.S. and Europe. For the small number of us willing to participate in peace activism, the distances and costs are large – so is organising events!
Now we did some big things for some small groups. Last year, we disrupted some of the world's largest war exercises. In Central Queensland, on a geographic area the size of Belgium, 16 of us in five groups were arrested for trying to get in the middle of the war exercises. The main disruption came in the form of media. Every time the media mentioned the necessity of the U.S. Alliance to Australian security, they also had shots of us being arrested or coming out of court.
War is so overwhelming, and the cost of nonviolent direct action in Australia was so high – in terms of time, travel and money. I mean the work is so important! But the expense and hours of labour needed to organise these events was straining on all of us. There were upsides, in the community building between us, and and getting 16 arrests was huge.
But I have also felt disappointment. Travelling to other parts of the country, just to hold up signs, or attend a conference. These things are also important. But I felt so compelled to do more. To use my privilege in this society to try and get in the way of the war making, and spending so much time and money to not disrupt, has felt laborious and tiring.
This year, my friend Shane Anderson (who I used to live with at Gembrook Retreat on the outskirts of Melbourne) and I have tried to put disruption into our regular lives. We selected a place I was arrested at a one off protest in 2014 in an industrial area in south east Melbourne. The site was owned by Lockheed Martin. We have since discovered it is now owned by Leidos Australia and was referred to by employees as a data centre. Leidos Australia sorts through the mega data collected and is involved in drone and military targeting. It is one of the largest employers at Pine Gap, a notorious base in Central Australia.
Yesterday, the 26th of August, for the third time in six weeks, Shane and I, with two supporters, Teigan and Jess, tried to blockade the two gates. I locked on with a bike lock and Shane played the music. In the two previous attempts to blockade, police had come after a while, and had ensured the progress of a courier truck and then mysteriously left. The second time, with both Shane and I needing to be other places in the afternoon, we held until 12. A dozen police suddenly appeared five minutes to, so we left, happy that two of us had slowed down war making by three hours.
Yesterday the police came quickly. Fire rescue crew, (unfortunately located just around the corner) were there very early in the morning and had no real trouble cutting through the bike locks on the second gate. As they swung them open, Shane attempted to hold the gates closed with his arms. The older male police officer, who had tried to play nice cop, suddenly turned brutal, pulling Shane by his hair and repeatedly punching Shane's arm. Shane was arrested and put in the back of a police car. Fire rescue crew cut my neck lock off a short while later. I was prepared to be put in the police wagon, when I was dumped on the grass next to the driveway. I shuffled to my right and knelt on the driveway and waited to be carried away.
Instead the police changed tack. Encouraging me to move away on my own, a young officer told me this was not worth an arrest. I replied that children being murdered are clearly worth an arrest, if it bought one second of delay to the work of the evil place behind me. I hummed a hymn and prayed silently for a world without war, as police threatened again to take me to the police station. I gave no reply, nothing more to be said. Other police threatened to arrest Jess and Teigan with "breaching the peace" if they didn't leave. A few minutes later, to my surprise, the next thing I saw was Shane being let out of the van. He knelt next to me, right as I had to say "I need to sit mate, my knees are starting to hurt".
Nothing happened for a while, we moved, eventually back against the gate. At this time, all of the police moved to the second gate. After about an hour, a police car was moved between us and the second gate. We tried to walk in front of it, but a wall of police blockaded us. The officer who recently had sworn and pulled Shane's hair suddenly turned cheeky and polite – "I'm just gunna stand in your way now, gentleman." I replied in the same tone, "Must be annoying to have so many police come out and you're not allowed to arrest us cause the guys in this building say so" not being short of wit the officer replied "No Comment." Shane and I moved back to the driveway for a while. Our guess was they planned to pop the second gate open and let a bunch of the workers in. At one point the police just about all moved away for a meeting. Shane and I walked in front of the gate, locked arms and sat down to block access. At this point they could have used the other gate – but a plan is a plan!
Confusion set in for a while as plans were made and changed. Eventually a Leidos executive came over and gave us the trespass spiel (in Australian law, to be charged with trespass, a representative of the owner has to revoke your right to be in a place). He went away and the police moved in and I prepared, again, for arrest. Again, they tried to sweet talk us out. I held a kufiyah in my hands and thought of the people I had met in Palestine who lived under oppression every day, The police then picked us up and carried us. As they did, I told them about Shane's blue scarf. I told them how children in Afghanistan wanted us to wear it to remind all of us that we all live under the same blue sky, that we are all one family. I told the police that we were simply trying to protect their family, whom we might never meet, from the weapons of my country. The police wrestled, trying to separate us, but failed.
It didn't matter though – at 9:50 a.m., the gates opened and 15-20 workers got in. The police dropped us, locked the gates and then started to fade away.
Police had been on the scene for two and a half hours. Nine police in total, including two senior officers. Many senior Leidos people were around, deciding on the strategy for dealing with us. It was decided not to arrest us. Arrests bring media and scrutiny. They did everything in their power to not arrest us. We considered jumping the fence and breaking on – but our main goal is to disrupt, and we had done our best.