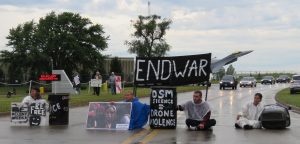 from a report by Frank Cordaro
Four peace activists were arrested on Wednesday morning, June 28 after they set up three concrete blocks in the road leading into a drone base and chained themselves to them in a desperate attempt to get local attention to what they believe is happening at the 132rd Wing Iowa Air National Guard Drone Command Center at 3100 McKinley Avenue in Des Moines, Iowa.
The road was blocked for hours while fire crews cut through the concrete barriers.
Those arrested are Jesse Horne (20 years old), Spencer Kaaz (21 years old), Jessica Reznicek (35 years old) and Ruby Montoya (27 years old). All four are charged with interference with official acts and obstructing a public way, two misdemeanor charges with a possible maximum jail time of one month plus fines. They planned to remain in jail overnight and see a "jail" judge the following day.
The protest is part of a campaign started six weeks ago by the Des Moines Catholic Worker and the Des Moines chapter of Veterans for Peace to bring attention to the terrible truth that the Des Moines Drone Command Center is part of a mission we know are killing women and children in the Middle East (sources available).
UPDATE:
Before a Polk Co Jail Judge on June 29, Jesse Horne, Spencer Kaaz, Ruby Montoya and Jessica Reznicek all pled guilty to two misdemeanor charges, were given fines and released.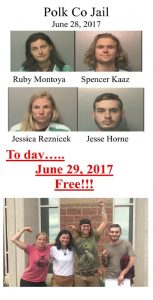 "4 arrested protesting drones at Iowa Air National Guard" DM Reg, June 28, 2017 (see below)
"Drone protesters chained to concrete slabs block National Guard base" KCCI 8 TV News, June28, 2017
38 Photo Slide Show, photos by Aaron Jorgenson
The Road Block was live streamed at Facebook Name: Alex Cohen (Xela)
From Des Moines Register:
A group of protesters physically blocked access to the Iowa Air National Guard base at the Des Moines airport for hours Wednesday morning to protest the base's operation of military drones overseas.
Some protesters began to leave just after 8:30 a.m., while three men and one woman remained in the road, with their arms in concrete barriers they had set up.
The Des Moines Fire Department provided facemasks and other cover to the protesters to protect them from debris as crews cut through the concrete barriers, said Brian O'Keefe, fire department spokesman.
Police anticipated the four people who remained in the road would be arrested, but as of about 9 a.m., crews were still working to remove them with the concrete barriers.
An organizer for the group of about 10 protesters is Frank Cordaro, the former Catholic priest affiliated with the Catholic Worker House.
Airmen arriving for work after about 7 a.m. found people with signs and concrete barriers along McKinley Avenue near the base entrance.
Guard personnel, police officers and other emergency workers watched as the group chanted slogans for over an hour. At about 8:25 a.m., police began speaking to individual protesters, saying they were violating the law by blocking the road, and ordered journalists to move away from the immediate area.
Police and fire officials described the protesters as peaceful.
Cordaro said that he was grateful for police, firefighters and journalists doing their jobs at the protest — but that he wants a response from Des Moines' religious leaders and other community members. And ultimately, he wants the Air Guard base to stop flying military drones, which he believes are killing innocent women and children overseas.
"We're asking for attention to a moral issue that's not being addressed," he said. Cordaro has been protesting at the base with a small group of supporters off and on since May.
"This is what democracy looks like," Cordaro said while surrounded by police officers, firefighters and protesters. "If this gets that discussion going, we'll be happy,"