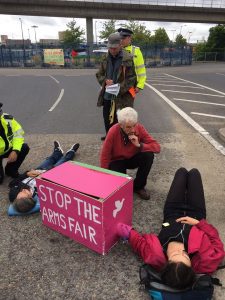 by the Nuclear Resister
Over one hundred people were arrested during a week of nonviolent direct actions challenging the world's largest arms trade fair, the Defence and Security Equipment International (DSEI) exhibition held every two years in London.
Leading up to the arms bazaar opening on September 12, thousands of people joined in strategically coordinated actions that successfully disrupted the shipment of massive hardware and glitzy displays into the exhibition halls and pushed the set-up schedule back for days. Beginning September 4, each day of protest had a different theme, and campaigning groups across the broad Shut Down the Arms Fair coalition created actions to spotlight the connection between their work and the global arms trade. Daily blockades and multiple lock-downs at two gates created a logistical nightmare for delivery trucks while keeping teams of police occupied with cutting through metal and concrete locking devices or coaxing down banner-hangers dangling from an overpass. London police announced at least 102 arrests between September 4 and 11, and organizers report that protest continued through the duration of the exhibition and several more arrests were made. Most are charged with obstruction and summoned to court for first appearances in late September and early October.
A tent camp near the venue, an Art the Arms Fair exhibition and public performances by rebel clowns and musicians added to the scene surrounding the protests. A billboard near the ExCeL Centre venue and hundreds of advertising placards at nearby transit stops, in the buses and on subway cars were "hacked" with bold messages declaring "Arms Dealers Not Welcome in London."
The first arrests came on Monday, September 4, with a focus on the arms trade in the Middle East. Sales to Saudi Arabia were protested, and Palestine solidarity activists and their allies took aim at Israel as both arms buyer and "battle-tested" arms producer. Trucks carrying Israeli military vehicles were blocked and at least six people arrested.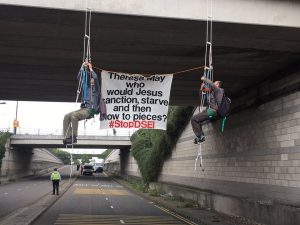 Tuesday was No Faith in War day, with anti-war participation from many faith traditions. Nearly 200 British Quakers, ages 1 to 98, joined what may have been their largest meeting for worship other than the yearly general meeting as they occupied the blocked road. At least six more arrests were made.
Wednesday's theme was No Nuclear and Arms to Renewables. Trident Ploughshares, Faslane Peace Camp and Campaign for Nuclear Disarmament groups staged repeated blockades of both roads leading to the ExCeL Centre. Police teams were so busy removing multiple heavy locking devices that they had to take a break and recharge their battery-powered portable cutting tools. Another 25 arrests were made during the day, once the blockaders were separated and removed from the road.
On Thursday, September 7, the Stop DSEI activists advocated for "Free Movement for People Not Weapons!", asking "why do weapons, tyrants and arms dealers move freely, while refugees and migrants are stopped at borders?" North London Food Not Bombs hosted a road block picnic after several activists locked down to again stop shipments into the expo center. A delegation of Veterans for Peace attempted to enter the hall to conduct a citizen's inspection for internationally condemned and contraband weapons such as were discovered on display at the 2015 event, but were stopped by police. (Inside the expo the following week, an undercover team of veterans documented a laser weapon on display, capable of blinding combatants in violation of international prohibition of such weapons.)
Among the handful of arrestees was Cameroonian actor Bernadette Mappa Kouame Agyei, who performed to great acclaim the role of a judge in the All African Women's Group roadside performance of "We are Here Because You Were There." She was jailed and threatened with deportation after more than 20 years in Britain, but a support campaign generated over 200 letters to the authorities and stopped her exit flight a week later.
Friday's blockades were led by costumed supervillains from across the universe "on strike" against the Empire of War Merchants on earth. A few more arrests were made.
There was a Festival of Resistance on Saturday, with large crowds blocking both gates. More than 30 arrests were made. Sunday was devoted to hearing the stories of resistance to war and militarism from participants who came from around the world to demonstrate.
As a finale, a flashmob die-in was staged on Monday morning, September 11 on the sidewalk entrance. Accompanied by a soundtrack of gunshots and explosions mixed with the "cha-ching" of a cash register, the arms dealers had to seek their profits by walking over the "dead and bloodied" bodies, a scene of the consequences of the deals done that week.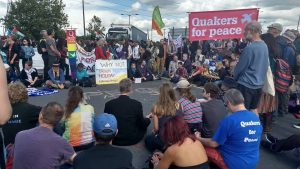 xxx
More than 100 people have been arrested as they tried to prevent weapons companies from setting up their stands for the world's biggest arms fair, which begins this week in London.
Peace activists began a week of blockades of ExCeL centre in Docklands last Monday to stop weapons, vehicles and other military equipment arriving at the biennial Defence and Security Equipment International (DSEI) arms fair.
By Sunday afternoon, after seven days of protests, 102 people had been arrested, mostly for obstructing the highway, the Metropolitan police said.
Many of those who risked arrest to try to prevent the arms fair from going ahead said they had done so because they believed the products on sale at DSEI would be used to commit war crimes.
Angie Zelter, a member of the Trident Ploughshares activist group, was one of 25 people arrested at the western entrance to ExCeL last Wednesday. She and other activists locked themselves together to block the route into the site.
"I said with my action that selling components of illegal weapons of mass destruction is not done in my name," Zelter said. "I consider that nuclear arms deals are part of an ongoing conspiracy to commit a war crime."
"It's important sometimes to put your body on the line, so to speak, and to try to stop the normalcy of the arms trade, and to publicly stand up and say this should stop," he said. "We've seen in the past that direct action works and this is one way to try to bring an end to the arms trade."
The Rev Enid Gordon, a Methodist minister from North Shields who was arrested on Monday, told the Guardian she had not intended to be detained. "I walked in front of the road when I saw a lorry coming, then other people joined," she said. "The other people left and I found myself the only one there.
"I just think we shouldn't be selling weapons to Israel … and particularly to Saudi Arabia. It's obscene, it's against God's will. I feel this [protesting] is more of God's will."
Among the expected 34,000 attendees at DSEI, which officially begins on Tuesday, will be delegations from what activists say are some of the world's biggest human rights-abusing regimes.
According to a parliamentary question tabled by Caroline Lucas, the co-leader of the Green party and MP for Brighton Pavilion, the government's Defence and Security Organisation has invited representatives of Algeria, Bahrain, Egypt, Kuwait, Oman, Pakistan, Philippines, Qatar, Saudi Arabia, Turkey, the United Arab Emirates and Vietnam.
Five government ministers are due to speak, including keynote addresses from Liam Fox, the international trade secretary, and Michael Fallon, the defence secretary. Exhibitors include representatives of the world's 10 biggest arms companies.
Lucas told the Guardian: "It's no surprise that so many people have been protesting against this grotesque spectacle.
"More than 100 people have been arrested because of their actions, but I have no doubt that history will judge kindly those who peacefully put their bodies in the way of an arms fair that sells weapons to some of the world's most brutal dictatorships.
"This arms fair really is a dark stain on our country's already tarnished reputation. It's time that this festival of violence was shut down for good and the UK engages in peacebuilding rather than trying to cement itself as the world's weapons dealer."
Oxfam accused the government of double standards for hosting DSEI in London while taking part in the annual meeting of signatories to the international Arms Trade Treaty in Geneva. It made special mention of the £3.6bn of British weapons sold to Saudi Arabia to carry out the war in Yemen.
Sally Copley, Oxfam GB's head of campaigns and policy, said: "Yemen is the world's worst humanitarian crisis, suffering from a borderline famine and hit by the world's largest cholera epidemic, which shows no sign of abating.
"Yet the deaths, the destruction and the misery seem to count for nothing. Since the war began, not one licence to export arms to Saudi Arabia has been rejected by the government.
"When you are witness to the suffering in Yemen, it is hard to understand or excuse how the UK government talks the talk on arms control while it walks the walk of arms sales."
Jeremy Corbyn issued a renewed call on Monday to halt UK arms sales to Saudi Arabia. The Labour leader said Britain was exporting far too many arms to countries that abused human rights and the time had come to do something about it.
"I fully appreciate the size and enormity of the arms industry, and the need for working with industry to protect those jobs, in some cases by arms-conversion work, but above all we have to look at the consequences of a vast amount of arms sales to Saudi Arabia," he told BBC Radio 4's World at One.
Corbyn said suspending sales to the Saudis would also send a "very important message" to the U.S.
xxx
Police arrest 25 people as anti-war activists chain themselves together in the road to block weapons arriving for Britain's biggest arms fair next week
Global arms fair is taking place at London's ExCel centre next week
Protesters say it will be visited by repressive regimes to view arms
25 people were arrested today, 17 yesterday and eight on Monday
Police arrested 25 protesters who chained themselves together outside an arms fair in east London today.
The exhibition at the ExCel centre shows off military and security equipment from around the world and is expected to attract more than 30,000 visitors next week.
But campaigners insist those visitors will include representatives of repressive regimes and have attempted to disrupt the delivery of equipment to the event.
A group called 'Stop the Arms Fair' tweeted this morning: 'Blockades have taken place at both gates of ExCel centre, trying to disrupt the arms fair set up.'
A Met Police spokesman confirmed that 25 people were arrested outside the exhibition today for offences including obstruction of the highway.
It comes after eight people were detained on Monday and 17 others yesterday.
On Monday, a group called Quakers in Britain, said eight of their members were those arrested.
The group's Sam Walton said: 'Every two years, protesters witness representatives from governments involved with internal repression, torture and human rights abuses attending DSEi in order to ensure supplies for those deeply unacceptable practices.
'Britain surely cannot promote peace and democracy, and London cannot be a city of peace, if it is where repression and torture begin and if it is where the seeds of war are sown.'
The event will be attended by Defence Secretary Michael Fallon, International Trade Secretary Liam Fox and the heads of the British armed forces.
Ahead of the opening of the exhibition, Stephen Phipson, from the Department of International Trade, said: 'DSEI is one of the best global defence and security networking events and an important opportunity for UK companies to identify joint venture partnerships and industry collaboration.
'It is also an excellent opportunity for UK companies to profile innovative equipment in both sectors to delegations from across the world'.
xxx
from Justice and Peace Scotland
Henrietta Cullinan writes our latest blog on her participation in disrupting the recent Arms Fair in London. Henrietta is an author, peace activist, member of the London Catholic Worker, and coordinator for the Faith and Resistance Network.
Day two of the Stop the Arms Fair week of action was #nofaithinwar day. Groups from all faith backgrounds committed to an hour each of prayer and protest outside the back entrance to the ExCel exhibition centre, in East London. Others such as Quakers, Put Down the Sword and the London Catholic Worker committed to disrupt the set up of the arms fair, through direct action.
Although I'd been arrested before, I'd never been part of a lock on, complete with arm tubes and carabinas. I was ready for physical discomfort, but dreading having to sit in a police cell, watching the walls zoom in and out of focus.
On the day I found myself calmly waiting, beside the A12, looking straight up at Erno Goldfinger's Balfron Tower, a building at the centre of a row between local residents and developers. Then all of a sudden it was time to proceed and the nerves kicked in.
At the east gate of ExCel, by a pelican crossing, we tumbled out of the van, pulling our lock on boxes with us. Immediately a policeman was beside me. I lay down and put my arm straight in the tube. It was suddenly very cold. The sky was blazing down into my eyes. I wished I'd brought sunglasses. But every time I moved the police medic and arresting officer would ask me if I was alright.
In no time at all they'd cut me out and had me handcuffed in a van. After my companion was cut out the two of us were taken to something I later discovered is called a 'custody suite', on a commercial estate in Barking.
Once in the cell, I waited a bit to feel scared and vulnerable, but no such feeling came so I laid down and had a snooze. I did let the adrenaline give me some lovely euphoric thoughts as I enjoyed the solitude and the quite soft blanket. I spent the time making up letters to the Mayor of London, Sadiq Khan, asking him why he allows the arms fair to take place.
It is the most visible side of the $1.7 trillion dollar spent on the military globally. As the UK looks for deals outside the EU, because of Brexit, it will turn to the global arms trade, which is booming. But the arms trade itself fuels conflict. Where there is already instability, the arms trade rushes in to provide weapons and exacerbates violence.
For people of faith there is the moral justification for direct action, to prevent a great sin from happening, and to warn our brothers and sisters that we are committing a grave sin in allowing this trade to continue. Our own taxes go to subsidising the arms industry. Missiles made in this country are sold to Saudi Arabia, which is using the very same missiles to bomb Yemen. Our products are causing bloodshed, famine and disease for Yemeni civilians.
It was very hopeful to see the numbers of who had come to support the week of action, from Europe, Yorkshire, Scotland. On the 'no faith in war' day, according to some, the protest was five times as big as two years ago.
Later I found out that the #nofaithinwar day, which included 5 abseilers hanging from a bridge, had kept the protest going for 4 and a half hours. Altogether by the end of the week there were over 100 arrests. The set up of the fair was said to be 4 days behind schedule.
As I write this I have already been to court once, where the magistrate and the prosecution were taken unawares by the sheer numbers; 15 pleading not guilty to willful obstruction of the highway. We have to go to court again in a weeks time, for a further case management meeting.
For more information see: