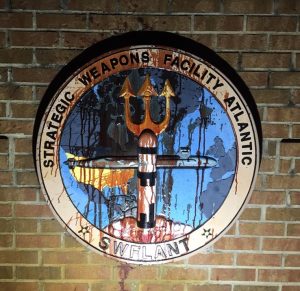 Seven Catholic plowshares activists were arrested early Thursday morning, April 5 at the Kings Bay Naval Base in St. Mary's, Georgia. They entered the base late in the evening of April 4, 2018 in an attempt to nonviolently transform weapons of mass destruction and inspire Americans to reject racism, militarism and economic injustice. They are being held at the Camden County Public Safety Complex in Woodbine, Georgia.
On April 6 at 9:30 a.m. the seven had a first appearance in Camden County court before Chief Magistrate Judge Jennifer E. Lewis. They were charged with two felonies, Possession of Tools for the Commission of a Crime and Interference with Government Property, and a misdemeanor, Criminal Trespass. Despite their well-established commitment to nonviolence and integrity and a clear promise to reappear, the seven were denied bond for the felony charges. Magistrate Lewis acknowledged the seven posed no flight risk, but claimed they were a threat to the community because she believed they might return to the base.
Their bond denial comes at a time when community organizations and attorneys across the country are challenging the widespread practice of pretrial detention and excessive cash bail. The Kings Bay Plowshares stand in solidarity with innocent people, disproportionately Black and Latino, across the United States who languish in jails awaiting due process.

The seven being held are Clare Grady, 59, Elizabeth McAlister, 78, Stephen Kelly, S.J., 69, Carmen Trotta, 55, Martha Hennessy, 62, Mark Colville, 55 and Patrick O'Neill, 61.

The Kings Bay Plowshares is the latest of more than 100 similar actions around the world beginning in 1980 in King of Prussia, Pennsylvania.
For more information, see the Kings Bay Plowshares Facebook page here and Kings Bay Plowshares website here.